4 Stage Purification Process
KENT Air Purifier effectively removes 99.97% of particles which are less than 0.3 microns in diameter, by using an intense 4 stage purification process.
First Stage: Pre-filter
Acting as a first line of defence, the pre-filter traps and removes large particulate matter and dust particles from air such as cob webs, human or pet hair, debris and sand particles with efficiency.
Second Stage: Specially treated Carbon Filter
KENT HEPA air purifiers use honeycomb structure which is filled with specially treated activated carbon. The carbon filter effectively traps pollutants such as VOC, odour/ foul smell, gases such as Hydrogen sulphide, H2S, Hydrocarbons and Formaldehyde. The activated carbon also increases the life of the filter.
Third Stage: Antibacterial Coated HEPA Filter
The anti-bacterial coated HEPA filter with advanced Japanese technology traps 99% SPM, which are as small as 0.3 microns. The HEPA filter also traps indoor carcinogen particles such as PM 2.5, pollen, allergens, mold, and cigarette smoke particles.
Fourth Stage: Ionizer
The ionizers disperse electrically charged ions attached to particles present in the air to improve the air quality. The ions force the pollutants to stick to the walls or other surfaces within the room or traps them on an electrically charged collection plate present in the ionizing unit.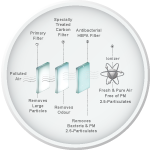 Click to Open Expanded View