March 22, 2019
The Dos and Don'ts to Check when Buying a Vacuum Cleaner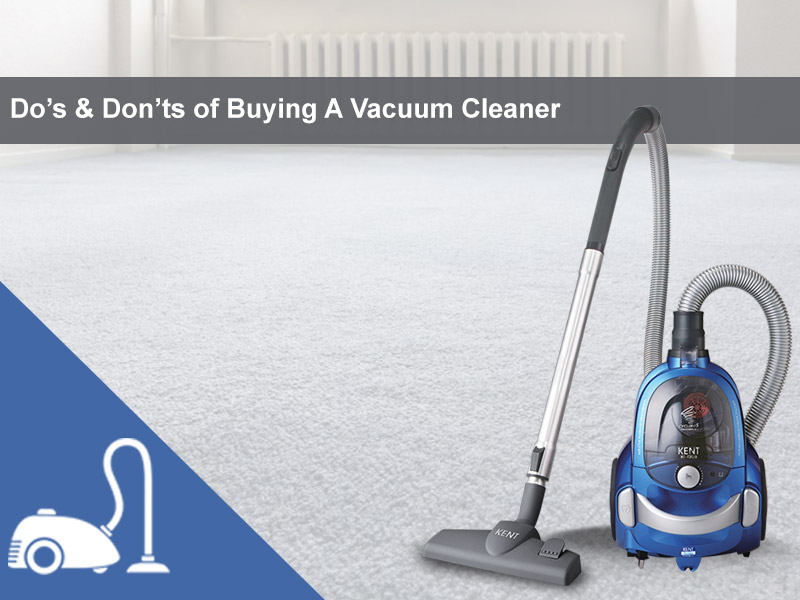 A vacuum cleaner has become a necessity rather than a luxury item in India. Considering the increasing amount of pollution, dusting your home is not enough. You need an advanced cleaning device such as a vacuum cleaner to clean flat surfaces. However, with the increasing number of vacuum cleaner brands in India, it is difficult to shortlist the right device. There are a lot of factors that you need to check in a vacuum cleaner before making the final decision. If you plan to buy a vacuum cleaner but are not sure about the features, this blog can help you out. We discuss some of the dos and don'ts that you need to follow when choosing a vacuum cleaner. Read on.
DOs: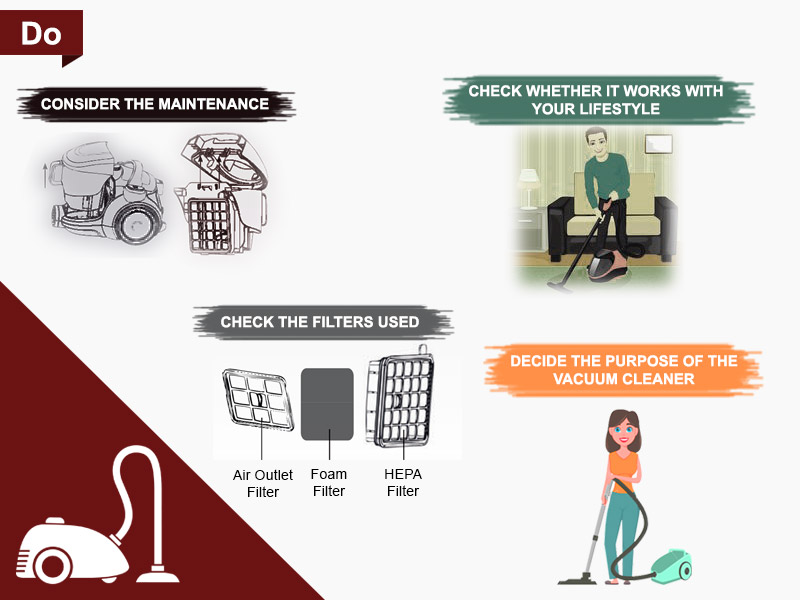 1. Decide the Purpose of the Vacuum Cleaner
Before buying a vacuum cleaner, decide why you need the device. Though some people need a vacuum cleaner mainly to clean the carpets, many of us use the appliance to clean our entire house. You also need to check the weight of the vacuum cleaner to ensure that you can easily carry it around when cleaning the house. Ensure that the vacuum cleaner is not very hard to push, pull, lift or move.
2. Check the Filters Used
This is another important factor that you need to check when buying a vacuum cleaner. There are a number of vacuum cleaners that come with HEPA filters and UV disinfection technology that neutralize bacteria, viruses, and dust mites from various flat surfaces. If someone at home has allergies or breathing problems, ensure that you get a vacuum cleaner with one of these advanced technologies.
3. Consider the Maintenance
When it comes to vacuum cleaners, you can choose between bagless and bagged vacuum cleaners. If you are planning to get a bagged vacuum cleaner, check the bag and replace it regularly when it's full. To make it convenient for you, some of the vacuum cleaners come with a light indicator, which lets you know when you need to replace the bag. Bagless vacuum cleaners are easier to operate than bagged ones as you don't face the hassle of changing the bags frequently.
4. Check whether it Works with your Lifestyle
If you have pets at home, make sure the vacuum cleaner is efficient enough to clean the surroundings. Ensure that the vacuum cleaner efficiently picks up the pet hair without wrapping around the brush. If you live in an apartment,  buy a vacuum cleaner after checking the size of the apartment. An apartment with a lot of carpets needs bagged and upright vacuum cleaners, whereas you can use robotic or hand vacuum cleaners for cleaning spilled dry items and dust.
Read More: Factors To Keep in Mind When Buying A Vacuum Cleaner For Daily Cleaning
DON'Ts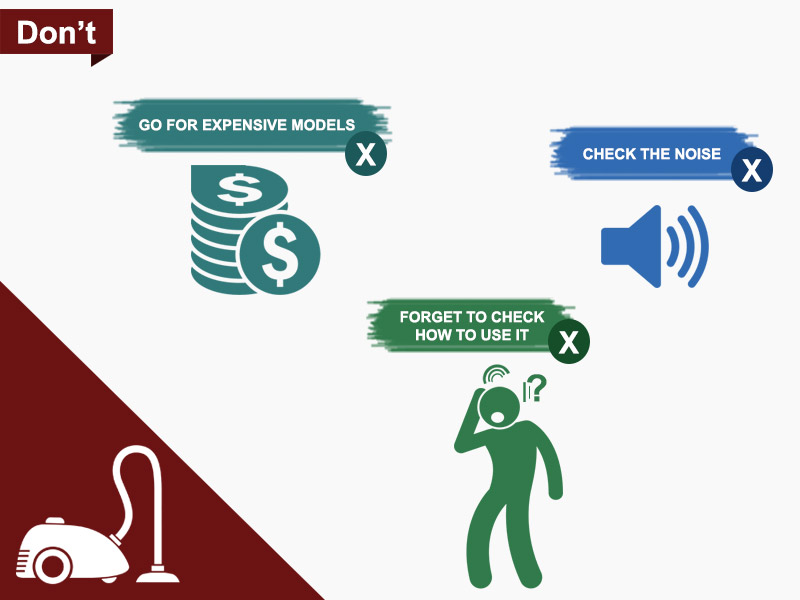 1. Go for Expensive Models
Many people are of the opinion that an expensive vacuum cleaner lasts long and is also of good quality. However, it may not always be necessary that an expensive vacuum cleaner will provide you top quality services. Before buying a vacuum cleaner, ensure that you read all the reviews, and research the brand before making the final decision.
2. Not checking how to use it
There are a few ways of vacuuming that can be wrong. For instance, never vacuum water or a flat surface using the device. If you are using a bagged vacuum cleaner, change the bag or ensure that you empty the bin at the right time. Check the filters, and UV lights to ensure that the vacuum cleaner removes all the contaminants from the surface efficiently.
3. Check the Noise
Another important factor that we tend to ignore when buying a vacuum cleaner is the amount of noise it makes. A very loud vacuum cleaner is very inconvenient to use, especially when you plan to clean the house on a weekend. If you feel that the device is making an unusually loud noise, look for some other options.
Also Read: 5 Essential Accessories that A Vacuum Cleaner Should Have
Last Few Words
Those were some of the dos and don'ts that you need to consider when looking for a vacuum cleaner. The advanced devices help you keep your home clean and dust-free. Considering the dos and don'ts before making the final buy ensures that you buy something that meets your specific needs and provides value for money. If you are looking for an advanced vacuum cleaner, you can check out the collection of vacuum cleaners from KENT. To find out more about visit https://www.kent.co.in/vacuum-cleaner/
Read More: 5 Essential Vacuum Cleaner Accessories