December 27, 2021
Factors To Keep in Mind When Buying A Vacuum Cleaner For Daily Cleaning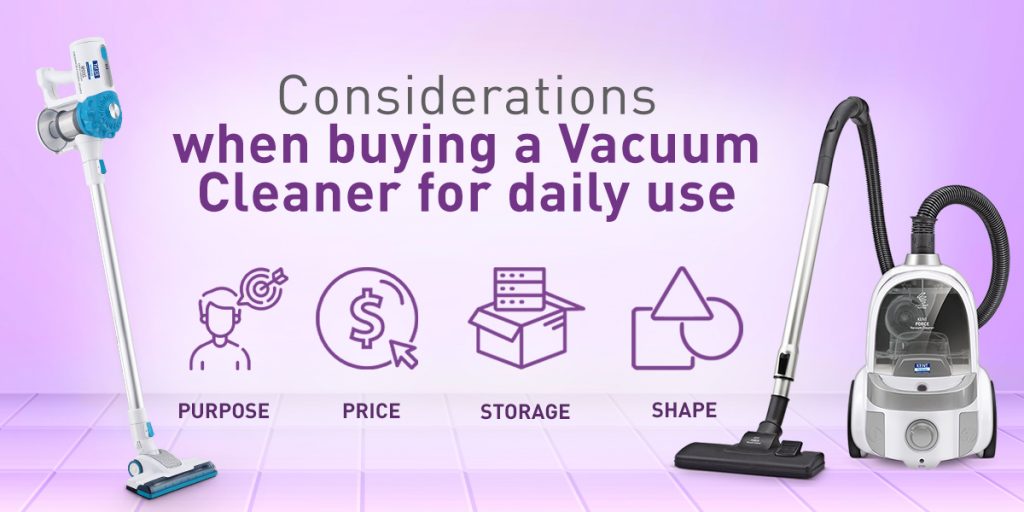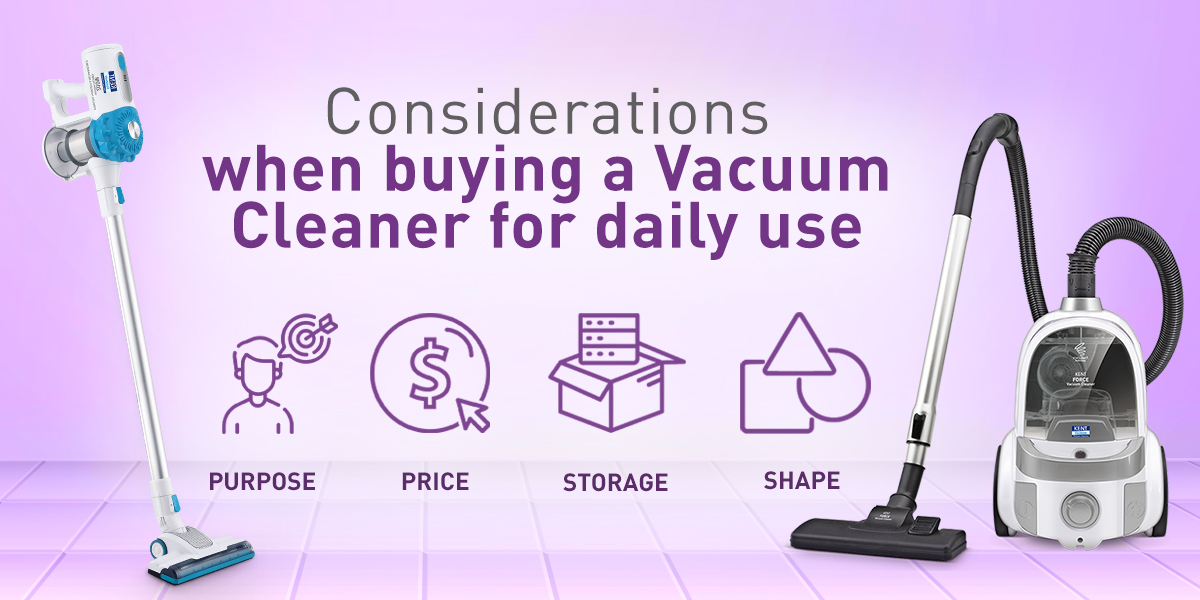 No matter how strict our precautions are, dust, pollution, and other unwanted particles always find their way into our homes. While it is truly ideal to live in a clean indoor atmosphere, dust is tough to remove and has a habit of reappearing. Additionally, when you have pets in the house, things grow even more complicated. Pet hair is a problem since it gets on carpets, sofa corners, clothes, and other surfaces. So, it is best to purchase a suitable vacuum cleaner offered by KENT to solve this issue and make your cleaning task easy.
A vacuum cleaner removes harmful dust and trash from every corner of your home, making it dust and dirt-free. Since there are so many vacuum cleaners available in the market at different price ranges, selecting a suitable one for you can be confusing. KENT's range of vacuum cleaners comes in an affordable price range and is developed as per your needs. However, when getting a vacuum cleaner, there are a few things to consider.
Hence, below is the major factors that you must consider while purchasing a vacuum cleaner. Read further.
Factors to consider prior to purchasing a vacuum cleaner
Cleaning every corner of the house is hectic and time-consuming. KENT Vacuum Cleaner can make your cleaning task easy and enjoyable. Here, we've provided four major factors that must be considered when buying a vacuum cleaner for your home, office, or car.
Purpose
When buying a Vacuum Cleaner, ask yourself –
What are your expectations with your appliance?
Do you want to clean your house or your car? Or is it your office?
Is your vacuum cleaner going to be used indoors or outside?
Kent Vacuum Cleaners are developed especially for the purpose for which they are intended. You may need to take a separate vacuum cleaner if you need to clean your car frequently, especially if you have children or a pet. KENT Vacuum Cleaners for home as well as for other spaces are manufactured in a certain way. Moreover, KENT has numerous Vacuum Cleaners for different purposes that too in an affordable price range. You can select one depending on the size, price, and, most importantly, your needs.
Price
Before choosing a vacuum cleaner, this is an essential factor to consider. Do not assume that a more costly vacuum cleaner is superior to the less expensive one. Vacuum cleaners are made for specific purposes. Finding a product at a reasonable price that provides the most significant benefit in your area of need is important. Thankfully, the range of KENT Vacuum Cleaners available in the market has made it easy to decide. Because this is an item that will be in your home for a long time, you must make your purchase after careful consideration. Vacuum cleaners offered by KENT are made with advanced technology and come in a reasonable price range.
There is a wide range of vacuum cleaners offered by KENT, which you can select from as per your needs. Also, make sure to purchase one which fulfills your requirements and fits your budget.
Bag/Bagless Vacuum Cleaner
Bagless vacuums have the benefit of not requiring bag replacement. However, improper bagless vacuum cleaner emptying can result in the re-dispersal of dust, pollen, and allergens into your home. To avoid recontamination it is strongly recommended that bagless vacuums be emptied outside. On the other hand, the bag has a larger capacity for dust, debris, and allergens, as well as a sealed container for disposal. In addition to price, you can also select the vacuum cleaner depending on its size. Moreover, all vacuum cleaners offered by KENT are made with the best technology that makes sure all buyer needs are fulfilled.
Read more: 5 Reasons Bagless Vacuum Cleaners are gaining popularity
Storage, Shape, and Portability
Trying to decide between a stick, canister, or upright vacuum? Consider how simple and comfortable it is to use. For mostly carpeted floors, upright vacuums are ideal. Canister vacuums are small and compact, making them easier to operate in tight spaces. A stick vacuum is great for even smaller areas and difficult-to-reach places and is lightweight and portable. KENT has every type of vacuum cleaner, including unique features, and is budget-friendly.
Hence, if you want to purchase a vacuum cleaner for your home, car, or office, include shape, storage, and portability. Moreover, you can browse the official website of KENT to purchase or get assistance from professionals to choose the right product. So, price, purpose, bag/bagless, storage, space, and portability are some of the main factors you must consider when purchasing a vacuum cleaner.
Conclusion
No matter what, vacuum cleaners are one of those appliances which make your cleaning task easy and less time-consuming. KENT's range of Vacuum Cleaners is a perfect choice as they are made with advanced HEPA technology, which makes sure every inch of the desired area is clean and dirt-free. Apart from this, they provide the best products which can fit your budget. Hence, if you wish to buy a vacuum cleaner, you can always rely on KENT, a trusted and reliable brand.