October 25, 2018
Healthy and Useful Corporate Gifts for Diwali
Diwali is just a few days away and it is also the season of choosing the best corporate gift. When done correctly, corporate gifts can also provide you with a great opportunity to strengthen your relationships with your employees and clients and grow your business. However, selecting corporate Diwali gifts can be really tricky, especially when you need something that's not too expensive and is useful. So, this Diwali instead of giving the same old gifts, why not choose something that is useful and also helps them stay healthy from the house of KENT? In this blog, we list 5 items that are not only useful but also healthy Diwali gifts for employees and clients.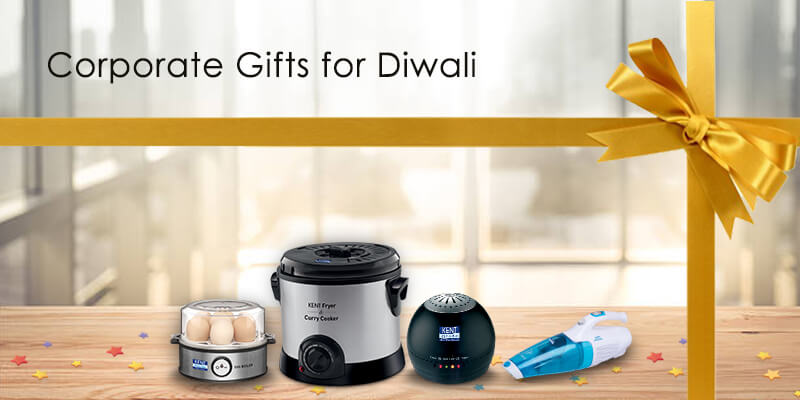 Instant Egg Boiler
Eggs are a filling breakfast, however, boiling eggs the way you like is easier said than done. A useful and healthy corporate Diwali gift for employees is KENT Instant Egg Boiler. The smart kitchen appliance makes it easy to boil eggs in three different modes- soft, medium and hard. The best part handy appliance can boil up to 7 eggs at the same time. Just add the recommended amount of water and perfectly boiled eggs will be ready in a matter of minutes.
KENT Gold Optima
A thoughtful Diwali gift for office staff that will be loved and appreciated is a water purifier. KENT Gold Optima, a UF water purifier from KENT not only removes bacteria and cysts but is also suitable for low TDS water. The gravity-based water purifier doesn't use any chemicals to purify water, which is an added advantage. The water purifier can also store up to 5 liters of water for the convenience of the users.
Crystal Vacuum Cleaner
Bulky vacuum cleaners are not only take up a lot of space but also difficult to use, which is the reason why these vacuum cleaners are never taken out of the cupboard. So, a compact vacuum cleaner that is powerful too will leave a positive impact on employees as well as clients. KENT Crystal Vacuum Cleaners use state-of-the-art cyclonic technology and HEPA filters to provide dust-free surroundings. Starting from car seats to sofas, you can easily clean everything with convenience.
Ozone Table-Top Air Purifier
The air quality deteriorates to dangerous levels after Diwali. This is the reason why an ozone table-top air purifier will be a useful gift this Diwali. The portable air purifier, based on Ozone Disinfection Technology, effectively kills bacteria, viruses, and other pathogens. The air purifier is ideal for a room size of 150 sq. ft.
Fryer and Curry Cooker
Fried snacks are loved by everyone, especially during winter. However, frying snacks in a traditional way not only consumes a lot of oil but also increases the risk of injuries. A useful corporate gift that you can give this Diwali is KENT Fryer and Curry Cooker. The multi-purpose appliance also helps in preparing slow-cooked dishes that bring out the flavors of food.
Choose the Perfect Gift
So, this Diwali, ditch the monotonous and obvious gifts and choose something useful and elegant that will be loved by your employees and clients. To find out more about the range of corporate gifts from KENT, click here.