November 21, 2018
Love Eating Dosas? It's Time to Try Brown Rice Dosas
A plate of crispy, thin dosa with hot sambhar and coconut chutney for breakfast gives a perfect to your day. Unfortunately, many people, especially the health-conscious lot, avoid eating dosas as the batter contains rice. Excessive weight gain and high sugar levels are some of the reasons why people avoid eating white rice. However, avoiding white rice doesn't necessarily mean you need to stop eating dosas. All you need to do is replace white with brown rice and you can enjoy your favorite recipe without worrying about your health. With the availability of KENT Turbo Grinder and Blender, making dosas is quite easy. Read on to find out the benefits of brown rice and how to make this mouth-watering recipe that you can enjoy without any guilt.
Why Switch to Brown Rice?
Many of us are aware of the fact that brown rice is healthier than white rice. Milling, which is a process of converting brown rice into white, removes all the essential nutrients from white rice. Brown rice is a whole grain that has an outer bran layer and germ intact. This type of rice is high in fiber content as it doesn't go through intense polishing and processing. Brown rice is rich in essential minerals such as manganese, iron, zinc, phosphorous, calcium, magnesium, and potassium. Brown rice is also a rich source of protein and also supplies a good amount of fiber. Some of the health benefits of brown rice are:
Controls Diabetes
Rich in Antioxidants
Prevents obesity
Prevents Alzheimer's Disease
Improves digestive health
Improves heart health
Controls cholesterol levels
Relieves insomnia
How to Make Brown Rice Dosa?
The procedure for making brown rice dosa is not very different. The only difference is in the ingredients that you will use to make the dosa. In fact, brown rice dosa is very crispy and has the perfect golden brown color. The best part is this dosa is very healthy as the batter has a combination of brown rice and two different lentils. However, an important point that you need to remember is you need to use unpolished brown rice instead of basmati. The reason is when you use basmati rice doesn't provide the health benefits mentioned above.  To make the dosa, you need:
Unpolished brown rice
Urad Dal
Chana dal
Fenugreek seeds
Salt and Ghee
Soak the ingredients overnight to prepare the batter. However, with the KENT Turbo Grinder and Blender, you can prepare the batter without soaking. Make sure that you grind the rice and dals separately. Transfer the rice and dal batter to a bowl and add salt to it. To make perfectly round dosas, use KENT Chilla and Dosa Maker. Dip the Chilla and Dosa Maker in the batter and wait for the sides to turn brown. Serve with sambhar and chutney.
Last Few Words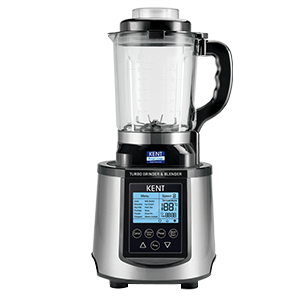 Brown rice dosa is a perfect dish for people who are concerned about their health and eating habits. The availability of some advanced cooking appliances makes it easy to give a healthy twist to your favorite dishes. To find out more about the smart cooking appliances from KENT, click here.