November 10, 2021
Egg Lovers, Time to Gift Yourself the Perfect Egg Boiler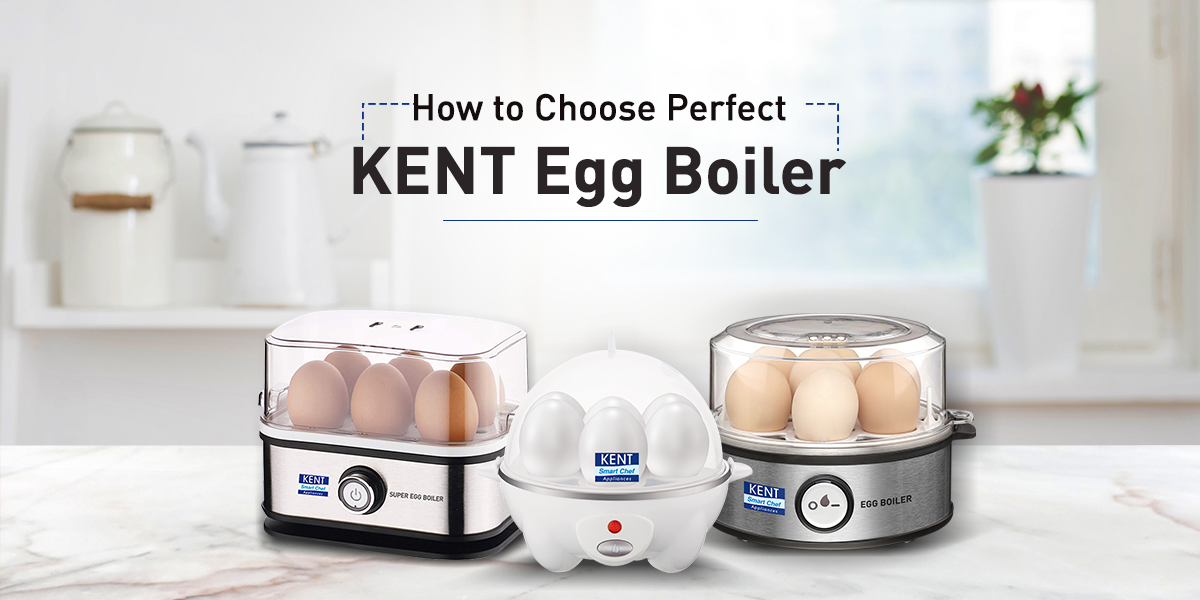 Eggs have been a regular part of our diets for a long time and are a key source of protein and vital nutrients for optimum health. Not only do boiled eggs provide essential nutrients, but they also help you get your day started. Boiling eggs may seem to be an easy task, but many people do not know how to do it perfectly. As it's difficult to predict how long it will take to boil eggs, it's also common to overcook or undercook them. Furthermore, to get the necessary nutrients, it is important to consume well-cooked meals.
So, if you are an egg lover but hate the process of waiting for too long, the Kent Egg Boiler is perfect for you. It makes perfectly boiled eggs within a few minutes. Apart from this, you can boil up to 7 eggs at a time with the egg boiler.
Benefits of KENT Egg Boiler
Cooks Perfect Eggs – The KENT Egg Boiler boils eggs as per your preference – soft, medium, or hard. This allows you to have your daily dose of protein according to your taste preference. It also has an automatic power-off function, which turns off the boiler once eggs are completely cooked.
Time-saving – Boiling an egg usually takes 10 to 15 minutes and requires constant checking to avoid cracking. But not anymore with the one-touch operation of Kent's egg boiler that cooks a perfectly boiled egg within 5 minutes.
Boils eggs without cracking them – Boiling eggs by following the traditional method results in uncooked, overcooked, or broken eggs. But, because of the automatic shutdown functionality of the Kent egg boiler, you can cook each egg perfectly.
Three Boiling Modes- You can boil eggs in three different ways, i.e., Soft, Medium, or Hard Boiled within 5 minutes. Therefore, it is a perfect kitchen appliance one must buy to make cooking easy and enjoyable.
Easy to Handle – Knowing how to boil eggs is essential for your safety. The egg boiler by Kent comes with a user guide that makes using the boiler simple for everyone. An egg boiler makes it possible to have protein rich meals without the hassle.
No water Leakage – The user manual comes along with the Kent Egg Boiler that explains how much water is required to cook eggs. The automated turn-off option is beneficial because it turns the boiler off when the eggs are done cooking.
Egg Boilers Offered by Kent: –
So now you must have got to know why egg boiler is a must-have for all egg lovers. Making perfectly boiled eggs helps you make several protein-rich dishes such as, egg curry, egg sandwich, scotch eggs, and more. However, for more clarification about the egg boiler, we've listed a variety of egg boilers offered by Kent below.
Kent Super Egg Boiler: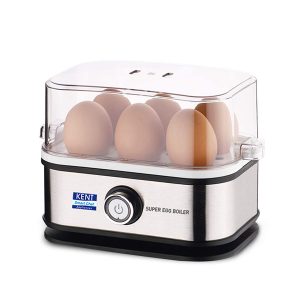 Kent Super Egg Boiler is designed with a flat heating plate that helps in boiling the eggs faster. It can boil up to 6 eggs at a time without breaking them. Also, it allows you to boil eggs in different ways; hard, medium, and soft. In addition, it has an auto power turn-off feature that automatically turns the egg boiler off once the eggs are cooked perfectly. It's easy and quick one-touch operation makes it unique from other egg boilers.
Kent Instant Egg Boiler: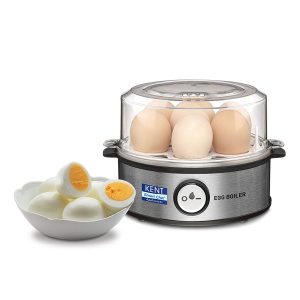 The Instant Egg Boiler by Kent is made with advanced technology that can boil eggs in three ways; soft, medium, and hard. You just need to put eggs, add the required amount of water, and it will boil your eggs within a few minutes. It can cook up to 7 perfectly boiled eggs. Also, it is designed with stainless steel heating plate that prevents eggs from overheating. In addition, it comes with accessories such as a needle pin and a measuring cup that lets you measure the accurate amount of water to be used.
Kent Egg Boiler-W: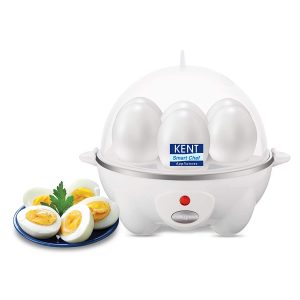 The Kent Egg Boiler-W cooks perfectly boiled eggs hassle-free. It is manufactured with the latest technology that makes cooking enjoyable. It is easy to use and lets you boil 7 eggs at a time. You can cook eggs as per your preference; hard, medium, and soft. It has a rust-resistant stainless-steel body and a durable heating plate to help retain heat better.
Conclusion
From the information provided above, you must have understood why an egg boiler is a must-have appliance. It is less time-consuming and simple to use. Hence, every egg lover must buy an egg boiler as it cooks the perfect snack or breakfast. Having a kitchen appliance that is so handy ensures that your protein needs are taken care of. If you want to purchase an egg boiler to make cooking easy, you should choose the KENT Egg Boiler. It has a variety of egg boilers and unique features that makes cooking enjoyable and safe. You can also look through the official website of Kent to see which egg boilers are available and select the best one that fits your budget.