July 14, 2017
A Handy Buying Guide for Grinder and Blender
Blenders and grinders have become a necessity for almost every kitchen. Hectic schedules and lack of time make it necessary to look for products that make it easy to prepare healthy and tasty food without any hassles. However, choosing the right blender and grinder can be difficult considering the different varieties and brands available. The buying guide will help you choose the right blender and grinder.
Types of Blenders
Hand Blenders
Hand blenders are small and have comparatively less powerful motors. These blenders are perfect for chopping, whisking, and whipping and are also easy to store. Hand blenders also come with multiple speed options which makes it possible to adjust the speed according to specific needs and convenience. If you love healthy smoothies, the use of a hand blender in the kitchen is an ideal solution for you.
Personal Blenders
These blenders are compact, easy to use, and clean which makes them a favorite among people on the go. These blenders are not only ideal for home use but you can also easily carry the blender along when you are traveling. If you are health conscious and can't do without your early morning smoothie, this blender is ideal for you.
Frozen Drink Blenders
A frozen drinks blender is helpful for mixing ingredients and also crushing ice. The blender and mixer shave ice which makes it smooth and can be mixed with juice, smoothies, and other types of frozen drinks.
Food Blenders
Food blenders are quite powerful and can be used for different types of tasks. Whether you want to make smoothies, grind nuts, chop, mince, dice, puree, heat, or also cook soups, a food blender can do it all.
Professional Blenders
As the name suggests, these blenders are ideal for commercial use. These blenders have a stronger motor and are capable of processing ingredients with ease. The high-speed motor makes it possible to crush different ingredients with ease.
Features to Consider
Capacity
When buying a blender, ensure that you consider the size of your family. Select a blender that is large enough to meet the requirements of your family. Modern blenders have the capacity to prepare smoothies, juices, or soups for the entire family.
Container
When looking for a blender and grinder, consider checking the type of container. Most of the blenders have plastic containers which don't break easily and are also lightweight. Plastic containers, however, absorb odors and get stained easily. When looking for a blender and grinder, ensure that the container has a wide mouth so that it becomes easy to load the ingredients and also clean it. To make it easy to pour the contents, choose a jar that has a pouring spout.
Blades
When buying a blender and grinder, ensure that you check the blades. Some of the handy appliances have detachable blades which make it easy to clean the kitchen appliance. Ensure that the blender and grinder have stainless steel blades as these are more durable and don't rust.
Speed
Grinder and blenders can have different speed options that may vary between three and 16. Though you can opt for a blender with as many as 16 different speed options, it may become difficult to distinguish between the different speeds. Some of the blenders have pre-set functions that help you prepare smoothies, batter, and fresh juices with one touch.
Power
The power of a grinder and blender can vary from 300-3,000 watts. The reason is higher the wattage, the better will be the performance of the grinder and blender. Depending on the usage, you need to select a grinder and blender with suitable power options. Vegetables such as potatoes and carrots are difficult to blend and so you need a high-powered blender and grinder.
Storage
Another important factor to consider is the space required to store the appliance. Handhelds are easy to store whereas the other types of blenders take up your counter space. Choose a blender depending on the availability of space.
Brand
Another important factor to consider is the brand. Always buy a blender from a renowned brand so that you can easily service it in case anything goes wrong. You can also easily get the spare parts of the grinder and blender from a renowned brand.
After-sales Services
The after-sales service is also an important point to consider when selecting a grinder and blender. The brand that you have shortlisted needs to provide prompt after-sales services and also clarify your doubts that you may have about the kitchen appliance.
Why Choose KENT Blender and Grinder?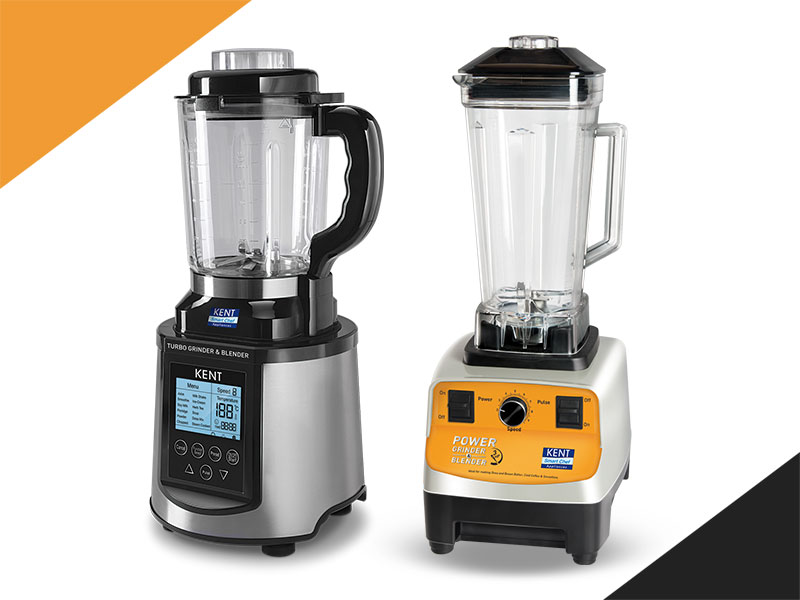 If you are looking for a powerful blender and grinder, check out KENT Blenders and Grinders. KENT has come up with a range of blenders and grinders that will help you prepare smoothies, soups, and juices with ease. The high power and speed, easy operation, and overheat protection are some of the unique features of the KENT Grinders and Blenders. You can visit our website or call us on  9582-123456 to book a free demo.