July 5, 2019
5 Reasons Bagless Vacuum Cleaners are Gaining Popularity
Keeping the indoor environment dust-free is important to avoid diseases. The increasing instances of outdoor pollution worsen the indoor environment, which is why it is necessary to follow a regular cleaning routine. However, simply dusting the flat surfaces is not enough as it doesn't remove dust mites and other pollutants. Using a powerful vacuum cleaner with HEPA filters helps in removing dust mites and other pollutants. Among the overwhelming collection of best vacuum cleaners available in the market, bagless vacuum cleaners have caught the attention of users. In this blog, we discuss some of the reasons people prefer bagless vacuum cleaners over vacuum cleaner with bag.
What is Bagless Vacuum Cleaner?
Bagless vacuum cleaners have become quite common in the last few years. Bagless vacuums, as the name suggests, don't use a replaceable bag that collects the dust and dirt from the surface. A bagless vacuum cleaning machine is compact and uses a dust cup or chamber to store the dust and dirt. The dust cup used in the vacuum cleaner can be easily emptied and cleaned.
Bag vs Bagless: Which should you Choose?
An important question that most users have in their minds is whether they need to choose a bagged or bagless vacuum cleaner. If you are looking for a vacuum cleaner that is convenient to use and also keeps away harmful germs, a bagless vacuum cleaner is right for you. A bagless vacuum cleaner is easy to clean and doesn't throw back the germs in the indoor air. As a result, the indoor environment stays germ and pollution-free.
In addition, vacuum cleaners also come with a number of filters that are easy to clean. The best part is bagless vacuum cleaners are less messy when it comes to cleaning the trash can. The vacuum cleaners also don't need to be emptied frequently, which is very common when you use vacuum cleaner with a bag.
The table will help you understand the difference between the two:
| | |
| --- | --- |
| Bagged Vacuum Cleaner | Bagless Vacuum Cleaner |
| Bags need to replace frequently | No need to replace bags |
| Replacing the bags is expensive | Cost-effective as there are no bags |
| Bulky and difficult to move around | Compact and easy to use |
| Less suction power | Stronger suction power |
How Bagless Vacuum Cleaners Can Benefit You
Better Suction Power
Canisters are Easy to Empty
No Hassles with Bags
Convenient to Use
Saves Money
1. Better suction Power
One of the benefits of bagless vacuum cleaners is their suction power. These vacuum cleaners don't lose their suction often as compared to their bagged counterparts. Bagged vacuum cleaners tend to lose their suction as the bag starts filling. Even if they lose suction, these vacuum cleaners can find their clog easily. The suction in bagless vacuum cleaners remains constant and is also less messy when you dispose of the dust and dirt sucked up by the machine.
2. Canisters are Easy to Empty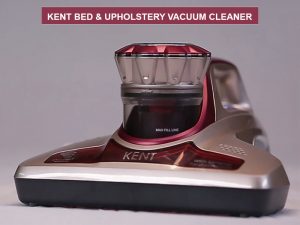 Bagless vacuum cleaners come with canisters that are easy to empty as compared to bagged vacuum cleaners. You only need to release the canister from the body of the vacuum cleaner and snap the lid of the canister. However, you need to empty the canister of the bagless vacuum cleaner with a little care to avoid the chances of spreading allergies. The presence of HEPA filters in bagless vacuum cleaners also reduces the chances of spreading allergies. With bagless vacuum cleaners, you also have the convenience to clean the inside of the canister and wash the filters. Though it may take a little time, cleaning the machine can go a long way in keeping the vacuum cleaner in a good condition.
3. No hassles with Bags
This is another advantage of using a bagless vacuum cleaner. Changing the bags of a vacuum cleaner frequently when using the vacuum cleaner can be a tough task and also time taking. In addition, if you don't change the bag of the vacuum cleaner on time, it can cause the sucked-up dust and allergens to go back into the environment. Though bagless vacuum cleaners need proper maintenance, you will be saved from the hassle of changing the bags frequently.
4. Convenient to Use
Bagless vacuum cleaners are convenient to use as compared to bagged vacuum cleaners, thanks to the see-through canister. The reason the see-through canister helps you keep a check on when you need to clean it for proper cleaning. In addition, if you accidentally vacuum something expensive when vacuuming, you can easily see and remove it when cleaning the canister.
5. Saves Money
When you use a bagged vacuum cleaner, you need to buy the bags that you need to use with the device. This not only wastes money but also increases the chances of landfills and pollution. When it comes to bagless vacuum cleaners, you don't need to spend an extra amount on buying bags to collect dust. You just need to clean the sucked-up dust in the canister and clean it for the next use.
Which Bagless Vacuum Cleaner Should you Choose?
When looking for a bagless vacuum cleaner, there are a number of important factors that you need to consider. The following points will help you choose the right bagless vacuum cleaner.
Suction Power- The most important point that you need to check is the suction power of the vacuum cleaner. Choose a vacuum cleaner that has more suction power as it can easily pick up more dust and dirt as compared to an appliance with less suction power. This also makes it easy for the vacuum cleaners to remove dirt and pet hair from hard-to-reach corners, stairs, and wall trim.
Filtration– Filters are an important part of vacuum cleaners as these play an important role in efficiently removing dust and dirt from the surroundings. This is the reason why you need to check the types of filters present in the vacuum cleaner. Go for a vacuum cleaner that comes with a HEPA filter as these catches and trap harmful impurities and don't throw it back into the room.
Also Read: What Makes Handheld Vacuum Cleaner Mostly Preferable?
Last Few Words
Whether you opt for a bagged or bagless vacuum cleaner, don't forget to conduct thorough research before making the final decision to choose the best vacuum cleaner. Look for a product that not only removes dust and debris but also makes cleaning easy without burning a hole in your pocket. KENT provides a collection of some of the best vacuum cleaners with HEPA filters, which keep the indoor environment clean and germ-free. To check out the range of KENT Vacuum Cleaners, visit our website.
Read More: 5 Essential Vacuum Cleaner Accessories