November 2, 2017
What Makes Handheld Vacuum Cleaner Mostly Preferable?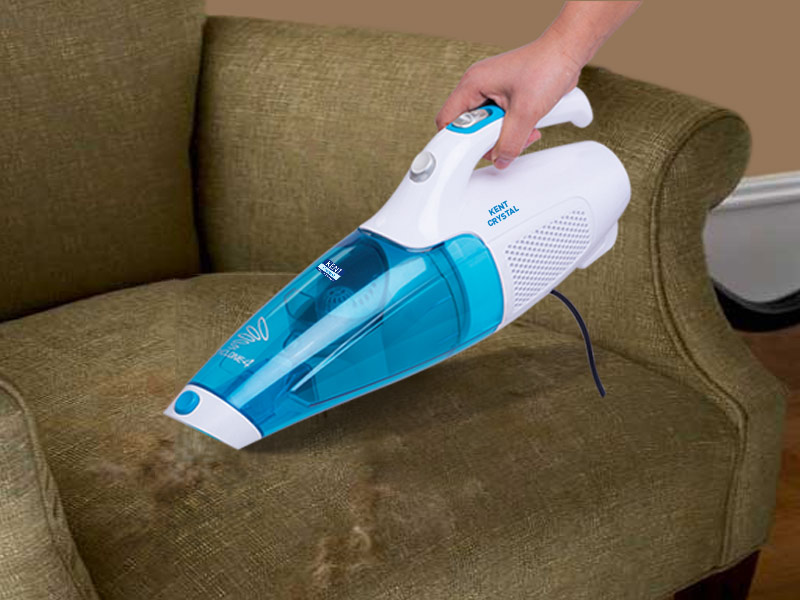 Vacuum cleaners are one such product that plays a significant role in keeping your home & office clean and spotless from dust and dirt. It allows you to conveniently scoop up dirt and even the finest dust particles from the surface of your room and let you stay healthy in a dust-free surrounding. Though there are different types of vacuum cleaners in the market, however people mostly prefer handheld models. Such type of handy vacuum cleaners are small in size, compact, portable and lightweight and can be used to keep house/office clean and dust-free.
So, get rid of the traditional way of cleaning, and bring home handheld vacuum cleaner. However, before making the final decision, check the price, features, and brands of vacuum cleaner available in the market. Keeping in mind about the convenience of cleaning, KENT has brought for you a wide range of vacuum cleaners.
You can also read: https://www.kent.co.in/blog/best-vacuum-cleaners-buying-guide-2017/
Kent Crystal Vacuum Cleaner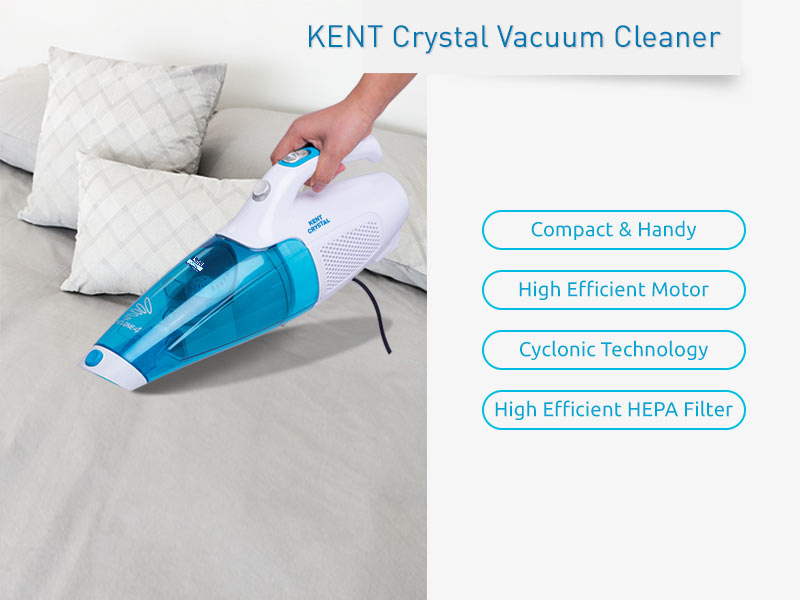 KENT has all type of vacuum cleaners for your need. Though all the vacuum cleaners have advanced functionality, however, people mostly prefer the handheld model that is Kent Crystal Vacuum Cleaner. The vacuum cleaner is designed with the state-of-the-art cyclonic technology and is also added with HEPA filter. The cyclonic technology easily scoops up dust and dirt from the surface and keeps the surrounding clean. The vacuum cleaner creates a fast-spinning vortex and sucks up the dust at a high speed. The collected dirt is then stored separately in a detachable cylindrical vessel or bin thereby keeping the environment free from dust and dirt.
It has high-efficiency HEPA filter that perfectly traps the dust present in the air and provides dust-free surroundings. The HEPA filter added in the vacuum cleaner reduces the rate of indoor air pollution by lowering the discharge of dust once trapped. It is compact and handy as well that makes it easy to use and carry from one place to another.
Some of the smart features of this vacuum cleaner are:
Low noise operation that is ≤ 86dB (A)
It has a power cord length of 5m
Input power supply needed is Single Phase 220 V, AC 50 Hz
18kpa is the maximum vacuum pressure
Maximum power needed to run is 850 watts
Handy and portable to carry
Conclusion:
Handheld KENT Crystal vacuum cleaner is convenient for cleaning dust and dirt from the floors of every room. As the vacuum cleaner is small and handy, you can easily use and store it. It is portable and lightweight as well. So, for quick, effective and convenient cleaning, bring home handheld vacuum cleaner.
Read More : 5 Essential Vacuum Cleaner Accessories