January 14, 2022
Traditional Makar Sankranti Treats from Different Parts of India you can Try at Home
Makar Sankranti, the harvest festival of India, is celebrated with a lot of enthusiasm. Known as Lohri in Punjab, Pongal in Tamil Nadu, Uttarayan in Gujrat, Bihu in Assam, and Poush Parbon in West Bengal, the auspicious day is celebrated in different ways all over India. Similar to any other festival in India, Makar Sankranti is incomplete without preparing some delicious traditional delicacies. To make this auspicious day more special, we list some of the mouth-watering recipes from all over India that you can make at home. With the help of the KENT cooking appliances range, you can easily prepare some of these dishes without any hassles. However, before we discuss the traditional dishes, let's find out the significance of celebrating Makar Sankranti.
What is so Special About Makar Sankranti?
Makar Sankranti, which is also known as the harvest festival, is celebrated with a lot of grandeur across the country. The festival celebrates the shifting of the Sun into Capricorn, which is also known as Makar in Sanskrit. Limited sunlight takes a toll on the harvesting of crops, which is the reason why when the sun transits towards the North, the country celebrates the onset of slightly longer and warmer days. The auspicious day is celebrated with a lot of delicious foods, songs, dance, and folk tales all over India.
The Importance of Name and Date of the Festival
The Majority of the festivals are celebrated according to the lunar calendar; however, Makar Sankranti is the only festival that is celebrated according to the solar calendar. This is the reason why Makar Sankranti is celebrated on the 14th of January every year. The word 'Makar' signifies cancer, whereas 'Sankranti' refers to the movement of the sun from one zodiac sign to another. In short, it means the movement of the sun into Capricorn.
Makar Sankranti is predominantly a harvest festival of winter crops. The festival is celebrated all over India. In western India, it is popularly known as Makar Sankranti, whereas in the South, the festival is known as Pongal. In the northern part of India, the festival is celebrated as Lohri whereas in the East it is named after the dish 'khichdi'. The festival mainly marks the end of the winter season.
Makar Sankranti Special Dishes Recipe from all Around India
Here is a list of the Makar Sankranti special dishes from all over India.
Sarso ka Saag from Punjab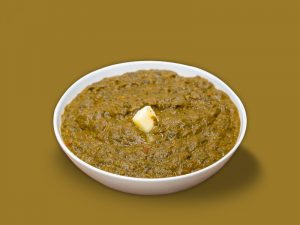 Who doesn't like gorging on the classic sarso ka saag and piping hot makke ki roti with a dollop of butter? A winter specialty from Punjab, the mouth-watering dish is made using mustard leaves and other green leafy vegetables. Though most of you have enjoyed the delicacy in restaurants, why not prepare this famous dish at home this Lohri?
Ingredients
4 bunches of fresh mustard leaves
1 bunch of fresh spinach
5 tablespoons Olive oil
Sliced ginger
6-7 cloves of Garlic
2 medium onions
3-4 Green chillies
Salt to taste
Procedure
Heat oil, and add ginger, garlic, and onion. Sauté for 3-4 minutes.
Add the chopped mustard leaves, and spinach to the pan and stir.
Add salt and cook till the greens are cooked completely
Grind the cooked greens using KENT Power Grinder and Blender
Transfer the paste to a pan and simmer for 2-3 minutes
Serve hot
Puran Poli Recipe from Maharashtra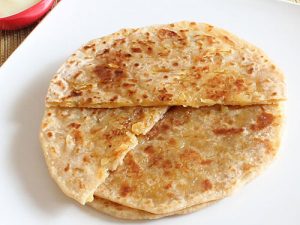 This is another mouth-watering dish that you can try at home this Makar Sankranti. Though puran poli originated in Maharashtra, it is loved by people from all around India. The stuffing, which is known as puran is made with a mixture of mashed chana dal cooked with jaggery and cardamom powder. Grinding the chana dal is no more an issue as you can use the Turbo Grinder and Blender from KENT. The delicacy is served with a dollop of ghee. You can prepare the dough for the roti with the help of the atta and bread maker from KENT.
Ingredients for Puran Poli
1 cup Split Bengal gram (chana dal)
3/4th cup Jaggery
A pinch of Saffron
¼ teaspoon Cardamom Powder
A pinch of nutmeg powder
Procedure
Boil the chana dal. Coarsely grind the dal using the KENT Turbo Grinder and Blender.
Take a pan, add dal, grated jaggery, cardamom powder, saffron and nutmeg powder. Mix well.
Stir constantly till the mixture is dry. Remove and let the mixture dry. Divide the mixture in equal portions.
In the KENT Atta and Bread Maker, add flour, ghee and water to get the perfect dough. Divide the dough into equal portions.
Roll out the dough, add the puran stuffing, cover and seal the edges.
Cook the puran poli in a tawa
Serve hot
Patishapta from West Bengal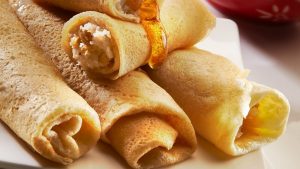 Another delicious recipe from the land of sweets lovers, patishapta is a stuffed sweet crepe. Makar Sankranti in Bengal is incomplete without preparing this recipe. The delicious dessert is stuffed with coconut, khoya, and date palm jaggery.
Ingredients
1 cup refined flour
½ cup sooji
¼ cup rice flour
2 cups milk
300 grams grated khoya
Sugar to taste
Cooking oil
Procedure
In a pan, mix khoya with sugar over a low flame. Add a little milk and cardamom.
Stir the mixture continuously till it becomes sticky. Keep the mixture aside for 15-20 minutes
Add sooji, maida, rice flour, and milk to a bowl. Mix well so that there are no lumps. For preparing the perfect batter, you can use KENT Turbo Grinder and Blender
Dip the KENT Chilla and Dosa maker in the batter
Add the khoya stuffing lengthwise in the center of the roll
Serve hot
Sakkarai Pongal from Tamil Nadu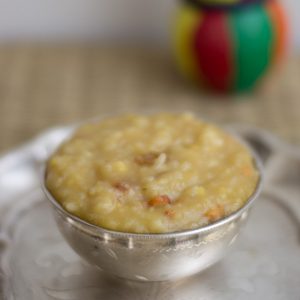 Sakkarai Pongal or sweet Pongal is a delicacy from South India. The traditional Pongal recipe is prepared using rice, jaggery, cashew, and moong dal. The mouth-watering delicacy is a must-have during Pongal.
Ingredients
½ cup rice
½ cup moong dal
½ cup grated jaggery
A pinch of cardamom powder
3-4 tablespoon ghee
1-2 tablespoon cashew nuts
Chopped coconut pieces
Preparation
Roast moong dal in a heavy-bottomed pan or KENT Electric rice cooker
Add rice to the pan and wash twice
Pour 2 ¼ cups water and cook till rice and dal are soft
Remove the pressure cooker and mash the rice
Pour grated jaggery into ¼ cup of water. Stir the jaggery on low flame.
Filter the jaggery syrup
Add green cardamom. Mix and cook on a medium flame till the syrup blends with the rice.
Heat a pan with ghee, add coconut pieces and fry them. Add them to rice. Add cashews, cloves, and fry till golden brown.
Serve hot.
Pitha from Assam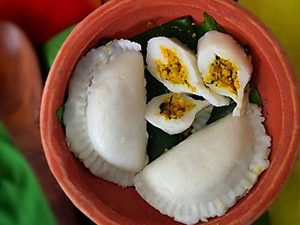 Pithas are one of the most important traditional dishes from Assam at a Bihu festival. Pithas are a staple of Assamese cuisine, made primarily of rice flour and other organic ingredients. To make this delicious Assamese Pitha at home, follow the recipe below.
Ingredients
1 cup Chana Dal
2 cups Rice Flour
Warm water
1 spoon chopped Coriander Leaves
¼ spoon Cumin Seeds
Salt (as per taste)
2 chopped Green Chillies
1-inch Ginger Stick
Preparation
Soak Chana Dal for 4 to 5 hours.
Add Chana Dal, Green Chilly, and Ginger to KENT Super Strong Grinder and Blender and grind it to make a smooth paste.
Add finely chopped Coriander Leaves, Cumin Seeds, and Salt to the dal paste.
The stuffing is ready.
Take Rice Flour and add salt to it. Prepare a smooth dough with the help of warm water.
Once the dough is prepared, divide it into 10-12 equal size balls.
Now take the rice dough ball on your palm and expand it 2-3 inches with the help of your fingers
Add 1-2 spoonful of dal filling to it, wrap up the dough piece and close from all sides.
Lastly, place it in the steamer and steam for 10 to 15 minutes until it's perfectly cooked.
Serve hot.
Undhiyu from Gujarat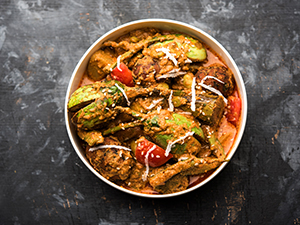 Undhiyu, also known as Undhiya, is a popular Gujarati dish that is cooked with a variety of veggies and spices, making it both healthy and nutritious. During Uttarayan, Undhiyu and Puri are preferred by many Gujaratis as their daily meal.
To make Undhiyu, start by making a round-shaped food item called 'Muthiya' or 'Muthdi,' which will be one of the elements in the dish.
Ingredients for Muthdi
1 cup chopped Fenugreek Leaves
¼ cup Whole Wheat Flour
3 spoons of Besan
½ spoon Turmeric Powder
½ spoon of Ginger and Chilly paste
⅛ spoon Baking Soda
1 spoon Sugar
½ Chilly Powder
½ spoon Coriander and Cumin Powder
Salt (as per taste)
Cooking oil
Water
Preparation of Muthdi
In a mixing bowl, combine all of the ingredients and make a dough
Make rounded Muthdis from the dough once it has been prepared
Now deep fry the Muthdis in KENT HotAir Fryer
Once prepared place the Muthdis on a plate
Ingredients for Undhiyu
Fried Muthdi
7 small Brinjals
2 ripe Bananas
7 mid-sized Potatoes
½ cup of Toor Dana or Green Pea
1 cup of grated fresh Coconuts
½ cup of Field Beans or Vaal Dana
½ cup of green fresh Garlic
½ cup of green Chickpea
¼ teaspoon of Baking Soda
¼ teaspoon of Turmeric Powder
1 teaspoon Ajwain or Thymol seeds
1 tablespoon of Ginger Chilli paste
2 tablespoons of Sugar
¼ teaspoon of Hing or Asafoetida
1 tablespoon of Salt
2 cups of Coriander or Dhania
2 tablespoons of Chilli Powder
4 tablespoons of Coriander Cumin Powder (Dhania Jeera Powder)
½ cup of Oil
Preparation of Undhiyu
Take a big bowl and add Coriander, Green Garlic, Salt, Sugar, Coriander-Cumin Powder, Chilli Powder, Turmeric Powder, Ginger Chilli Paste, Baking Soda, and Oil in it.
Mix all of the ingredients and set them aside. This is the masala stuffing for the Undhiyu.
Heat the oil in a large pan and stir in the Hing, Toor Dana, Vaal dana, Green Chickpea, and Baking Soda.
Now add part of the masala filling made before and toss it all together again.
Pour in 12 cups of water and cook for 5 minutes over medium heat.
After five minutes, fill Potatoes and Brinjal with masala stuffing and place them in the pan.
Re-add some masala stuffing to the pan, along with some water, and stir well.
Cook for another 5 minutes on medium heat before covering the pan with a lid.
Check the Potatoes after 5 minutes to see if they are cooked properly.
Cook for another 2 minutes on medium heat with the Muthdi that we prepared previously in the pan.
Last Few Words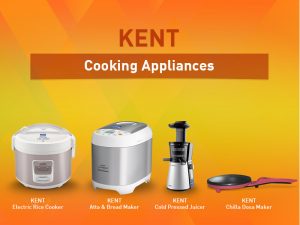 Those were some of the famous dishes prepared during Makar Sankranti in different parts of India. The best part is you can make all the dishes easily with the help of the cooking appliances from KENT. So, this Makar Sankranti, ditch the unhealthy food items and switch to healthy eating with KENT cooking appliances. Visit our website to find out more about our cooking appliances range.