March 10, 2017
Make Your Snacks Healthy With KENT Noodle And Pasta Maker
Is Fast Food Drifting You Away From Your Health Goal?
We all know the importance of eating healthy and staying fit, but some of us go to great lengths to ensure we maintain a healthy diet. Some avoid taking lunches in the office cafeteria else they could be tempted by the cheese pasta sitting on the counter or get caught in an impromptu pizza party that threatens to jeopardize their health goal. In short, we all try our best to stay away from fast foods as sometimes we lose that chase and fall prey to calorie-laden pasta and pizzas.
But running away is never a solution. Instead, it would be a better idea to give your fast food a healthy spin. With the latest gadgets making their way into our kitchen, it is easier than you may think.
Welcome, Kent Noodle & Pasta Maker to Your Kitchen!
 Next time instead of heading out with your gal pals, you could be the gracious host and show off your culinary talents with the help of your very own KENT Pasta Maker. Ignore the store-bought pasta and make your own at home, with the KENT Noodle and Pasta Maker, you can give your pasta a healthy twist by using oats and wheat flour instead of refined flour. You could also replace the butter with olive oil to bring down the calorie content of your dish by half.
Meanwhile, not only pasta but the KENT Noodle & Pasta Maker can also churn out dough for mouthwatering pizza and momos as well. All you need to do is choose healthy ingredients so that you could replace the All-Purpose Flour i.e. maida with Whole Wheat flour. Not only that, but you could also add puree of vegetables like spinach and carrots to your dough thereby increasing the nutritional and fiber content of the food.
Ways to Make Fast Food in a Healthy Way at Home
You don't have to stay away from your favorite food. All you have to do is to look for alternatives that are low fat.
Go for Low-fat toppings
While having your pizza or pasta, choose low-fat toppings and contain your calorie intake by replacing Feta cheese with parmesan or cheddar.
Opt for Healthier Shortening Agent
You can also replace regular cooking oil or butter with olive oil. Also, the use of natural sweeteners instead of refined sugar can help create a healthy balance.
Eat Healthy With Minimal Effort & Fuss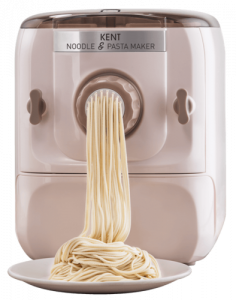 The Pasta Maker also comes with dies and cutters to facilitate the making of momos and Gujia's (Indian sweetmeat) and other items that could require the dies.
With the pasta maker, you could add your choicest ingredients according to your preference, and once you start the machine, it automatically mixes, kneads, and extrudes all the ingredients. The process does not include any manual intervention apart from just clicking the buttons. Also, the transparent lid allows you to have a complete view of the mixing and kneading of the ingredients.
Kent Noodle and Pasta Maker come with a smart drawer design, where you can easily store all the accessories.
The Pasta Maker also has a specially designed cleaning tool with bristles and pins that make cleaning an easy and time-efficient process. The remaining (left-out) flours and wheat inside the dies can be easily cleaned with the help of the cleaning tool.
Kent Noodle and Pasta Maker work on automatic functions, and it is easy to operate. It is also easy to dismantle and assemble the appliance. Its user-friendly shape makes it incredibly easy to use and run. Besides, owing to its compact design, you can store it anywhere you want to.
Healthy eating is a lifestyle change, and hence instead of denying yourself your favorite food, it is better to look for healthy ways to make it without compromising on the taste.
You May Also Like Reading: Make Healthy Snacks At Home with Kent Noodles & Pasta Maker