December 29, 2021
KENT Electric Egg Boilers – Boil Up To 7 Eggs As Per Your Choice Easily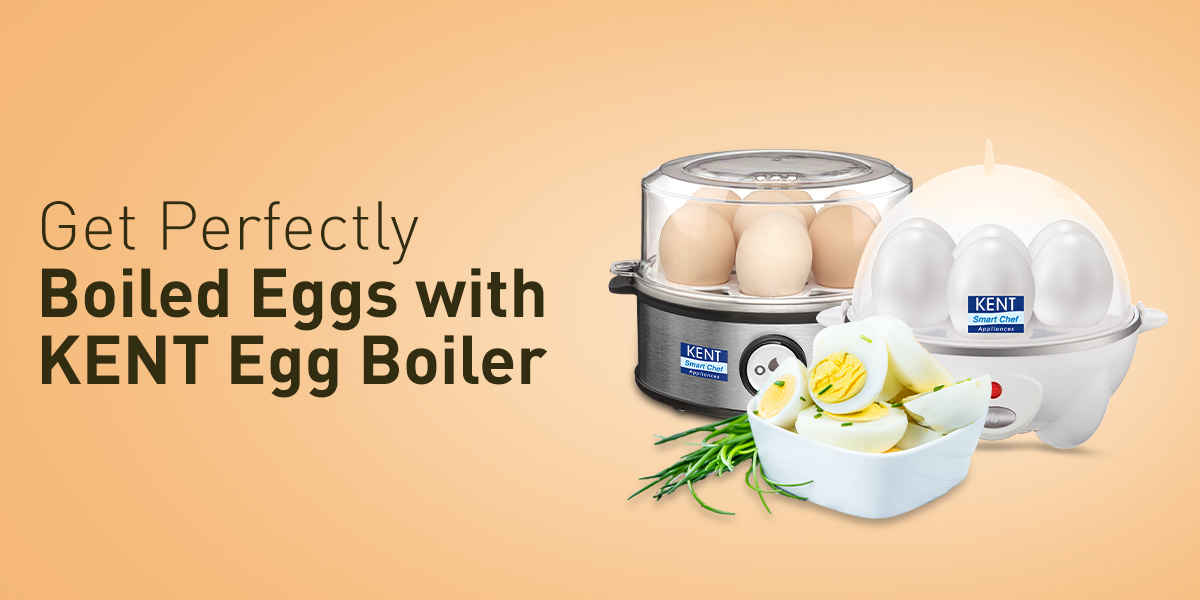 The versatility, affordability, and high nutritional value of eggs make them a staple food for many people. However, boiling eggs is time-consuming and challenging. It takes more than 10 minutes to boil eggs in traditional ways, plus one continuously needs to monitor whether the eggs are cooked or not. Hence, KENT Egg Boiler is a must-have kitchen appliance that makes the cooking task effortless. Kent offers a variety of egg boilers from which you can buy one depending on your preference and budget. With an egg boiler, you can boil up to seven eggs at a time using the power of steam. Apart from this, the egg boilers offered by Kent have three boiling modes: soft, medium, and hard.
Here, we've provided the complete details of egg boilers that help make your cooking work easy and are less time-consuming as compared to traditional ways of boiling eggs.
Electric Egg Boilers Offered by KENT Where you can Boil 7 Eggs at a Time with Steam
Kent Egg Boiler is a perfect kitchen appliance that contributes to making cooking enjoyable. The eggs tend to be undercooked or overcooked when boiled using traditional ways. Kent Egg Boilers come in handy in such situations. While boiling eggs using the Kent egg boiler, you do not have to monitor it as it turns the boiler off once the eggs are perfectly cooked. Also, the egg boiler ensures that you get perfect eggs without having to worry about over boiling or under boiling. Read further for the specifications of egg boilers offered by KENT.
KENT Instant Electric Egg Boiler:
A Kent Electric Egg Boiler is a convenient way to prepare a healthy breakfast every day. KENT Instant Egg Boiler, with its advanced technology, can boil up to 7 perfectly cooked eggs at once. It can boil hard, medium, and soft eggs based on your preference. Also, you don't have to monitor the boiler as it shuts down automatically once the eggs are completely cooked. In addition, it is designed with a stainless-steel body and a heating plate that ensures good performance and durability. Moreover, it comes along with accessories such as a needle pin and a measuring cup. With the needle pin, you can pierce eggs easily before boiling, and by using the measuring cup, you can pour the right amount of water to be used based on your preference.
KENT Electric Egg Boiler White:
Kent's Egg Boiler White makes it easy for you to prepare a quick, healthy breakfast based on your mood or choices. With one touch of a button, it boils 7 perfectly boiled eggs at once. Also, it includes three different modes, i.e., medium, soft, and hard. Its automatic turn-off feature allows you to cook eggs without overcooking or cracking them. In addition, it is designed with a stainless steel heating plate that enables greater heat transfer and hygienic operation. Hence, Kent Egg Boiler White is perfect for fulfilling all your nutritional requirements.
Apart from the above two egg boilers, KENT also has a KENT Super Egg Boiler made with advanced technology that can boil up to 6 eggs at a time. Also, its stainless-steel body and a flat heating plate ensure optimum durability and performance. You only need to add the required water and eggs in the boiler and turn the appliance ON to boil eggs with no cracks.
Conclusion
With Kent electric egg boilers, the user does not have to worry about anything, including the temperature control to calculate cooking times. The one-touch button makes the process more efficient. So, if you are a beginner or want to minimize the cooking time, the Kent Egg Boiler is an ideal choice. You can choose from the egg boilers offered by Kent as per your preference and budget. A simple kitchen appliance such as an egg boiler goes a long way in simplifying your cooking, so make sure you are investing in one to get perfectly boiled eggs every time.