December 20, 2021
How to choose the Best Air Purifier for Delhi Pollution
Despite many attempts to reduce pollution, India's air quality remains poor. Though India's rapid development, industrialization, and urbanization have made it the world's fastest developing country, it has also opened the door to disastrous consequences. One of them is air pollution, which is one of India's most serious health risks.
Having said that, it is important to take the right steps to protect ourselves from air pollution. It is necessary to have a basic knowledge about air quality, types of pollutants present in the air, and choosing the right air purifier based on the pollution level.
Understanding Air Quality Index
One of the most common terms, air quality index (AQI) checks the level of air pollution in a particular place. The presence of some gases, components such as CO2, SO2, NO2, dust, particulate matter, and suspended particles determine the air quality. AQI also informs you about the health effects that you may face when you breathe polluted air for a said number of days. To make it easy to understand, AQI has been divided into six categories: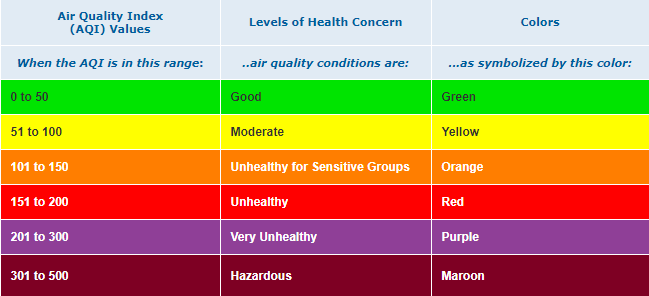 Source: EPA
Delhi and its Pollution Dilemma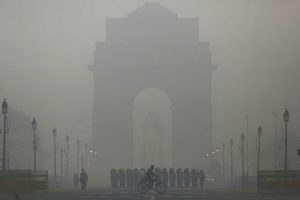 Every year Delhi makes it to the headlines because of its toxic air quality. Burning of crops, diesel generators, industrial smoke, and vehicle exhaust are some of the reasons that contribute to the problem. Excessive smog, high particulate matter, and hazardous air pollutants such as mercury and formaldehyde have an adverse effect on the residents of Delhi. In addition to the outdoor air, these pollutants also have an impact on indoor air quality. Considering the effects of air pollution, installing the best air purifier in Delhi NCR, wearing masks when outside, installing car cabin air purifiers, staying hydrated, and eating healthy can help in handling the side-effects of pollution.
Health Risks Related to Air Pollution
According to a report by the Global Burden of Diseases, air pollution killed 1.2 million people in 2015. Approximately 2.2 million children in Delhi may have irreversible lung damage, according to a study by Indian Express. Indoor air pollution results in a number of serious health problems such as
Low birth-weight
Laryngeal cancer
Asthma
Cataracts
Ischemic heart disease
Tuberculosis
Damaged cells in the respiratory system
Shortened life span
Some new research also suggests that air pollution affects cognitive development. The presence of PM 2.5 in the indoor air, when inhaled, enters the bloodstream and leads to blood-brain barrier degeneration. This can damage the neural tissue, neuroinflammation, and oxidative stress. Taking some precautionary steps such as installing the best air purifier in Delhi/ NCR will help you and your family to breathe safely, and live healthy.
The Necessity of Installing an Air Purifier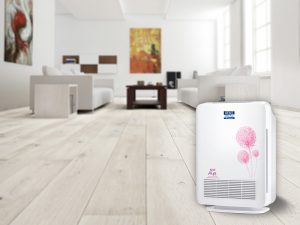 Not just outdoor, but indoor air pollution is also a serious concern that most of us tend to ignore. The presence of cigarette smoke, cooking smells, dust mites, and PM 2.5 deteriorate the indoor air quality and cause a number of health problems. Installing HEPA air purifiers at home, in offices, or even in-car cabins can filter out pollutants and improve indoor air quality.
HEPA air purifiers catch and trap indoor air pollutants that are less than 0.3 microns in size, with an accuracy of 99.9%. However, before making the final decision, check the air purifier price in Delhi to make the right decision.
How to choose the best air purifier for your home
To get the best air purifier for your home, you need to first understand the features, variety of air purifiers, and how they filter contaminated air.
Type of Air Purifier
The two most common types of air purifiers available in the market today are HEPA air purifiers and Ozone air purifiers.
As the name suggests, HEPA air purifiers come with a HEPA filter (High-Efficiency Particulate Arrestor) that helps in removing 99.97% of PM 2.5 particles. The air purifiers use 4 stage purification process to remove different types of impurities such as dust mites, pollens, pet dander, mold spores, and cigarette smoke from the indoor air.
Ozone air purifiers, on the other hand, use a revolutionary ozone disinfection technology that kills bacteria, viruses, and harmful micro-organisms from the air. The best part is Ozone air purifiers don't use any consumables to produce ozone (O3). The air purifiers use oxygen present in the environment to produce ozone and purify the indoor air.
Buying an air purifier: 3 things to consider
The next step to follow when choosing the best air purifier for your home is by ensuring that it has the necessary features that a good air purifier should have. Some of these features include a multi-stage HEPA technology, anti-bacterial coating, carbon filter, child lock, high CADR (Clean Air Delivery Rate), noise level, and air quality monitoring.
1. Budget
When purchasing an air purifier for Delhi pollution, there are a few key considerations to keep in mind. These considerations help in making an informed decision about how much money you are going to spend on an air purifier after buying. Maintenance costs, filter replacement costs, power consumption, manufacturing reputation, warranty, and after-sales servicing are all essential considerations.
2. Room Size
The size of your room also influences the effectiveness of an air purifier. If you have a lightweight air purifier functioning in a large room, it is unlikely that it will effectively clean the air. Make sure your air purifier's power and capacity are appropriate for the size of your room.
3. Customer Review
One of the essential parameters to choosing the ideal air purifier is to go through the customer rating section of the product. From the review section, you will know how durable and useful the product is.
It would be best to keep in mind these simple factors to get the best air purifier for your home. Read the comprehensive air purifier buying guide here.
Why Opt for KENT Air Purifiers?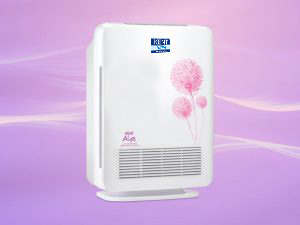 Among the different air purifier brands available in the market, KENT provides some of the best quality products. The four-stage purification process, silent operation, and intelligent air quality monitor make it one of the best air purifiers for Delhi pollution. HEPA air purifiers from KENT also remove odor, pet hair, pollens, etc. present inside your home. The high purification capacity of air purifiers cleans the indoor air instantly. Visit our website to find out more about air purifiers from KENT.
Read More: Top 14 Most Polluted Cities in India
Conclusion
To protect yourself and your family from the deadly airborne diseases caused by air pollution, you must install a suitable air purifier in your home. The above factors make selecting the ideal and affordable air purifier easy. However, ensure to compare the product in terms of features, price, and durability to find the perfect air purifier. KENT Alps+ UV Air Purifier can be a suitable option for your home as it is made with advanced technology to ensure you get pure and fresh indoor air.