March 13, 2019
Stay Clean and Dust Free with KENT Cyclonic Vacuum Cleaner
Keeping the house clean and dust-free is the priority of every homeowner. However, the traditional methods of cleaning your home don't remove harmful contaminants. Even after a thorough cleaning, traditional cleaning doesn't remove germs and other microorganisms. The presence of contaminants is very harmful and leads to a number of health problems. This is the reason why you need to switch from the traditional cleaning methods and switch to using vacuum cleaners. Among the different brands of vacuum cleaners available in the market, KENT Cyclonic Vacuum Cleaner is unique as they come with HEPA filters. Read on to find out why you need to use KENT Cyclonic Vacuum Cleaner.
Know about KENT Cyclonic Vacuum Cleaner
KENT Cyclonic Vacuum Cleaner comes with a revolutionary cyclonic technology that can easily remove dust and debris from the floor to keep it dust-free. The cyclonic technology creates a fast-spinning vortex to collect dust and dirt in the detachable cylindrical vessel. The collected dirt can be easily taken out of the bin and cleaned.
Being the best vacuum cleaner in India, KENT Cyclonic Vacuum Cleaner is added with a high-efficient motor with strong suction capacity. The cyclonic vacuum cleaner comes with a 1200W motor that collects more dust in a short time span making your home free from contaminants. The highly efficient vacuum cleaner reduces air pollution by ensuring maximum collection of dust and bacteria as compared to the traditional vacuum cleaners.
HEPA Filter in KENT Cyclonic Vacuum Cleaner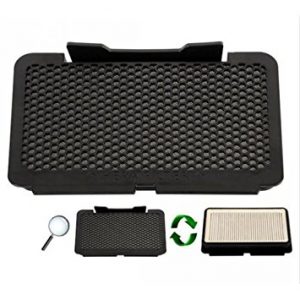 KENT Cyclonic Vacuum Cleaner is equipped with high-efficiency particulate arrestor (HEPA) filters that efficiently capture dust and bacteria. The vacuum cleaner disinfects bacteria, dust mites, viruses, and many other contaminants by making the indoor environment safe and germ-free. The best thing about the HEPA filter is it removes 99.9% of the impurities such as pollen, pet/human hair, animal dander, and other fine dust as well.
Some Features of KENT Cyclonic Vacuum Cleaner
Bagless Vacuum Cleaner
Auto power cord retractor
Low noise operation that is <= 78dB (A)
Rubberized wheels to ensure easy movement
Transparent dust container
So, if you want to keep your home clean from dirt and dust, you need to use KENT Cyclonic Vacuum Cleaner, which is best in all the essence. The vacuum cleaner is easy to use and it can even clean up places in an excellent manner. Get your vacuum cleaner now and keep your interior free from dust and dirt.
Read More: 5 Essential Vacuum Cleaner Accessories