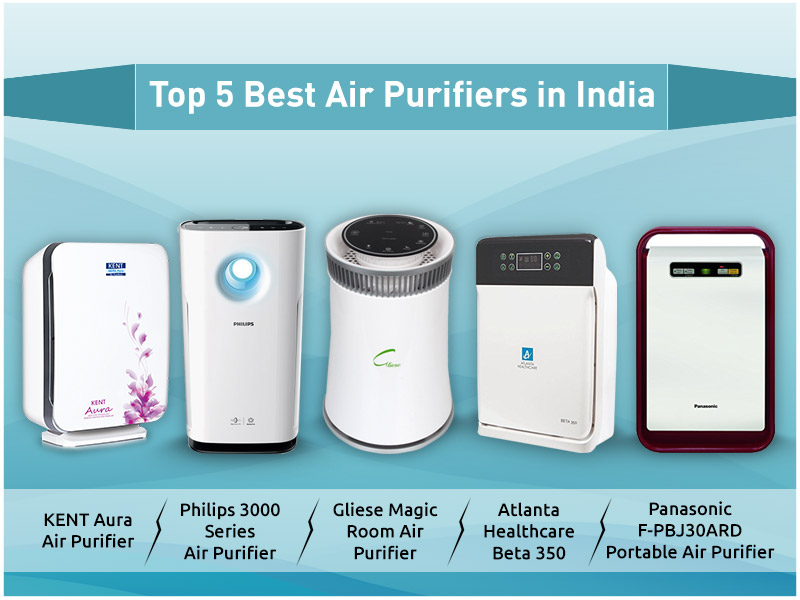 India is the home to 15 out of 20 most polluted cities, according to a report by World Health Organization. The worst part is it has been concluded that the indoor air quality is more harmful to your health than the outdoor air quality. Gas stoves, poor ventilation, smoke from electrical appliances release poisonous gases into the indoor environment making it harmful for health. The bad indoor air quality makes children as well as adults vulnerable to a number of lung diseases and breathing problems. As a result, it has become necessary to install an air purifier. The air purifiers are ideal for removing ultra-fine particles such as dust, pollen, harmful gases, bacteria, viruses and other irritants from the indoor air. However, the question which is the best air purifier in India you should buy? To help you out, we list the top 5 air purifiers available in India. Read on.
KENT Aura Air Purifier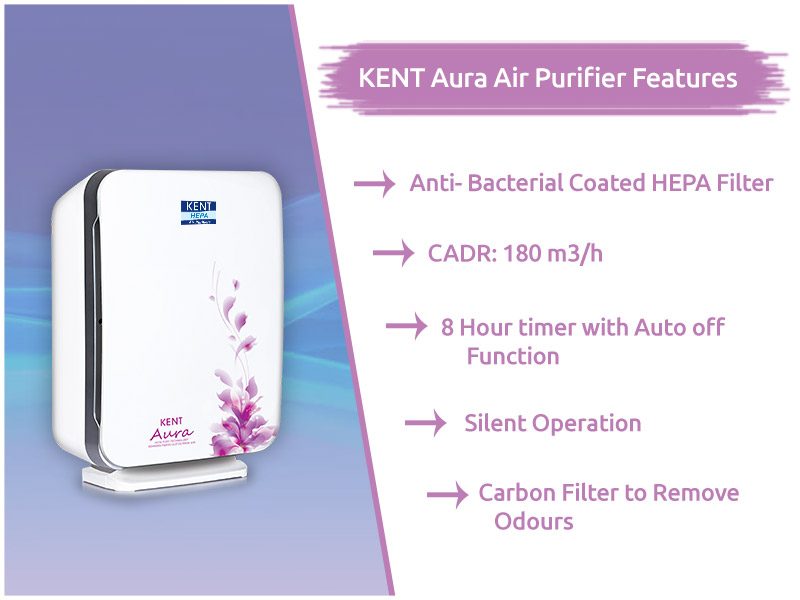 A perfect air purifier for a room size of 270 sq. ft., KENT Aura tops the list of our air purifiers. The air purifier from the renowned brand comes with tested and proven HEPA technology that is helpful in removing harmful pollutants from the indoor air. The super-efficient HEPA filter effectively removes 99% PM 2.5 and suspended particulate matter using a unique three-stage mechanism that catches and traps pollutants which are larger than 0.3 microns. The air purifier also has an inbuilt sensor and air quality LED that indicates the quality of indoor air in three different colors- Blue (Excellent), Pink (Good) and Red (Poor). The ultra-silent motors add to the advantages of the air purifier.
Features:
Anti-Bacterial Coated HEPA Filter
CADR: 180 m3/h
8-hour timer with Auto-off Function
Silent Operation
Carbon filter to remove odors
Philips 3000 Series Air Purifier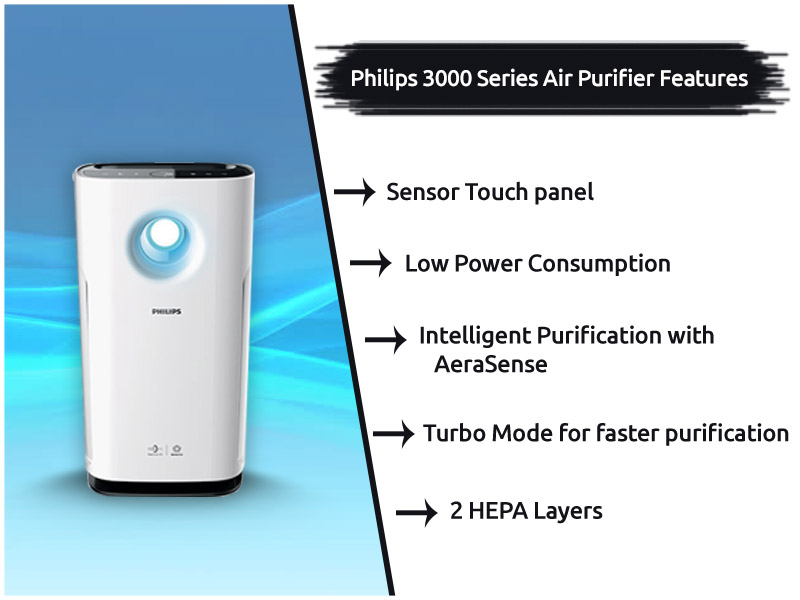 The 2nd on our list is Philips 3000 Series Air Purifiers that have an AirSense and VitaShield IPS technology. While the AirSense displays the indoor air quality using different colors, the VitaShield Intelligent Purification System removes 99.97% of the allergens from the indoor air. The air purifier has a CADR of 367 m3/ h along with Activated Carbon filter and 2 HEPA layers that remove dust, pollen, hair, bad odors, harmful gases and pet dander.
Features:
Sensor Touch panel
Low Power Consumption
Intelligent Purification with AeraSense
Turbo Mode for faster purification
2 HEPA Layers
Gliese Magic Room Air Purifier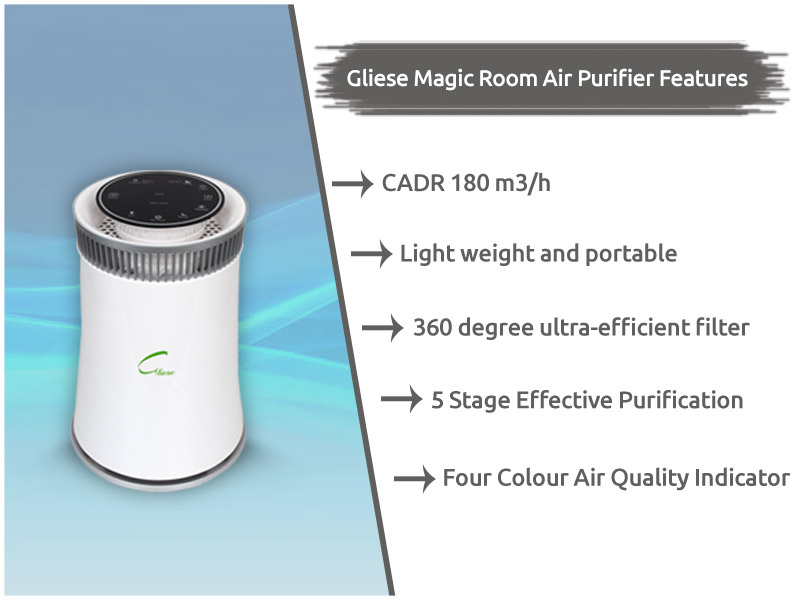 A compact device, Gliese Magic Room Air Purifier takes the third place in our list of top 5 air purifiers. The air purifier is 14 inches tall, 9 inches wide and weighs just 1.9 kg making it easy to carry the air purifier around. The air purifier comes with a control panel and well laid out functions which adds to the advantages of the air purifier. The best part is the air purifier comes with separate buttons for ions and UV lamps. The air purifier also has 3 colors that indicate the quality of indoor air. The air purifier also has an Auto Mode that adjusts the speed of the fan according to the air quality in the room.
Features:
CADR 180 m3/h
Lightweight and portable
360-degree ultra-efficient filter
5 Stage Effective Purification
Four Colour Air Quality Indicator
Atlanta Healthcare Beta 350
An efficient air purifier with the quality sensor, Atlanta Healthcare Beta 350 is the fourth on our list. The air purifier comes with quality sensor, filter change indicator, along with some other efficient features making it ideal for improving the indoor air quality. The air purifier uses a 7 step air purification process to remove impurities from the air to make it pollutant free. The purification process ensures that you get complete protection from indoor pollutants such as formaldehyde, smoke, pollen, virus, dust mite, gases, dander, PM 2.5 and other contaminants.
Features:
7 Stage Purification Process
Ideal for indoor spaces of up 350 sq.ft
CADR 170 m3/h
H13 grade and HEPA Filter
Noiseless Operation
Panasonic F-PBJ30ARD Portable Air Purifier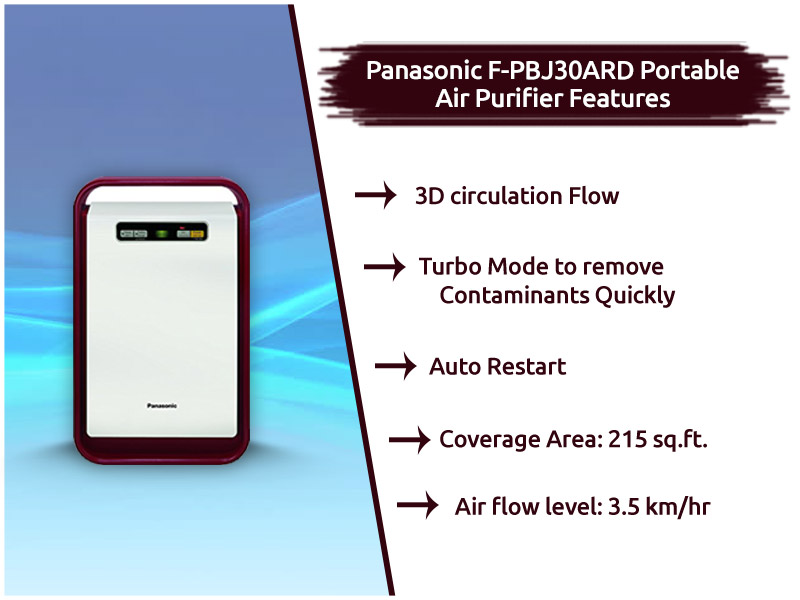 Last on our list is Panasonic F-PBJ30ARD Portable Air Purifier which effectively removes PM2.5 that pollute the indoor air. The air purifier from Panasonic lets you enjoy a comfortable sleep while it removes the indoor contaminants and turns off automatically when the air quality improves. The air purifier detects the indoor air quality and operates accordingly. So, if the indoor air is too polluted, the purifier will work at a maximum speed for 10 minutes. The 3D circulation flow of the air purifier absorbs dust and odor from all sides and back to make the indoor air pollutant free.
Features:
3D circulation Flow
Turbo Mode to remove Contaminants Quickly
Auto Restart
Coverage Area: 215 sq.ft.
Airflow level: 3.5 km/hr
Last Few Words
Those were the best air purifiers in India that you can select from to stay safe from indoor air pollution. These purifiers come in a wholesome package of top quality filters, CADR and purification process and affordable price. If you are interested in buying KENT air purifiers, visit https://www.kent.co.in/air-purifiers/ for more information.