January 9, 2017
Rising Air Pollution – A Serious Concern
The unhealthy air reading is a kind of warning of air pollution that everyone should be aware of. The polluted air that you breathe in can lead to adverse effects to your body and can even bring up the high risk of heart related diseases. Inhaling of polluted air can let you suffer severe problems like asthma, bronchitis, pneumonia and even chronic lung diseases. Air pollution today has become a serious issue for health and the major sources of this issue are burning of fuel-wood and biomass, contaminated fuel, emission of vehicle smoke and traffic congestion as well. In addition to this, smoke, smog, and even the particulate pollution are few aspects that lead to air contamination.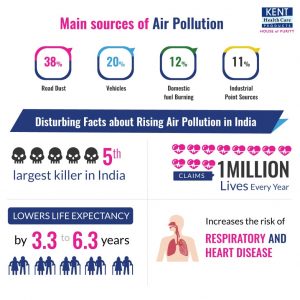 Several types of research conducted by reputed institutes under the subject air pollution has come up with a statistical report that says road dust causes 38% of air pollution, 20% due to smoke that comes out of the vehicle. 12% of air gets polluted due to domestic fuel burning and the industrial point sources have the 11% of share in polluting the air. The report has claimed that approximately 1 million (10 lakhs) people lose their lives every year due to the air borne diseases. Inhaling the air that is full of contaminants increases the risk of respiratory and heart disease thereby lowering the life expectancy by 3.3 t 6.3 years as well. This is why air pollution is regarded as the 5th largest killer in India and the high risk of getting affected are mostly the children and senior citizens.
Several studies have also revealed that the rising rate of respiratory ailment is because of the high level of indoor air pollution, thus, air cleaner or the air purifier has become a must to be installed inside the room. The usage of the polluted air trapping system is added with scrubbing technology that holds the capability to clean the contaminated air and make freshen up the room. In this concern, KENT has brought for you innovative HEPA air purifiers added with excellent purification technology. These products are being designed to perfection and are defined to have excellent filtration process.
You May Also like Reading: Health Hazard Caused By Indoor Air Pollution
The KENT air purifier holds the capability to remove 99.9% of pollutants from air and eliminate the dust, bacteria, PM 2.5, odor, SPM and make the air fresh to breathe in. There are four stages of filter that include pre-filter, where visible particles from the air are removed, the next stage adds activated carbon filter, where strong odors, foul smell, Volatile Organic Compounds (VOC) and even the Cigarette smoke are removed/filtered. The third stage has anti-bacterial coated HEPA filter that is 99.9% efficient in trapping the suspended particulate matter as small as 0.3 microns and make the air completely fresh for breathing.
To know more about indoor air pollution read our inside story.