August 20, 2018
KENT's Latest Wonder Product: 3-in-1 Mini Blender & Food Chopper
Using big and bulky kitchen appliances are a thing of the past. Lack of time and space constraint are some of the reasons why most of the people look for products that are sleek and at the same time operate at a high speed. Keeping that in mind, Kent has launched an all new kitchen appliance – 3-in-one Mini Blender & Food Chopper. The smart kitchen appliance is not only sleek but can also perform multiple tasks with an amazing speed. Read on to find out the unique features of the product.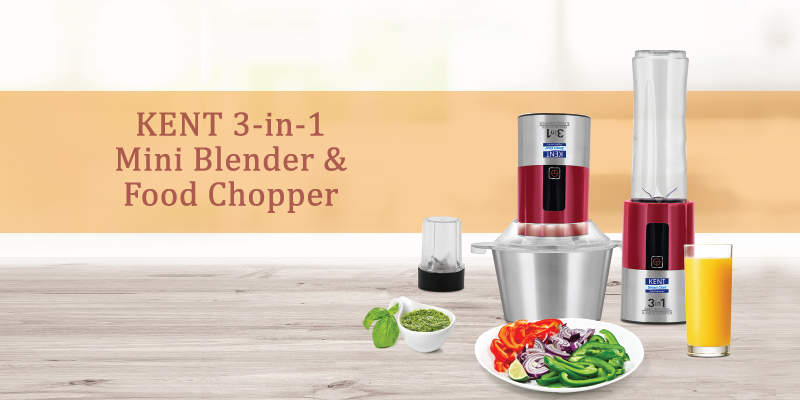 What Makes the Appliance Different?
There a number of blender and food choppers available in the market. So, what makes the appliance different from other variants?  As the name suggests, KENT 3 in 1 Mini Blender and Food Chopper is ideal for 3 purposes- grinding, chopping and blending.  The appliance has been designed keeping in mind the requirements of modern households.  Here are some of the unique features of the product that makes it different.
High-Speed Operation
Considering our fast-paced daily schedule, we prefer using products which are hygienic, cost-effective and also highly efficient. KENT's 3-in-1 Mini Blender & Food Chopper operates at a very high speed of 22000 RPM for faster grinding and blending to save time, especially in the busy morning hours.
High- Grade Stainless Steel Blades
The blades of the grinder and blender do most of the work, which is the reason why it is necessary to check their quality. It is always recommended to opt for a product with high- quality stainless steel blade as these are more durable. Keeping in mind this factor, KENT 3 in 1 Mini Blender and Food Chopper comes with high-grade stainless steel blades.  The high-grade blades make it easy to grind and chop even hard vegetables and fruits with ease within a short span of time.
Light-weight and Portable Design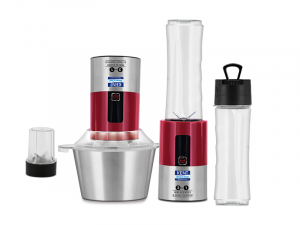 Bulky appliances take up a lot of space and are also difficult to use. This is the reason why the all-new appliance from KENT is light-weight and portable. The appliance comes with 3 sleek jars which make every day cooking easy. Starting from mincing meat, chopping vegetables, to preparing purees, chutneys, shakes KENT 3 in 1 Mini Blender and Food Chopper can help you out.
Easy to Clean
The innovative design of the KENT 3-in-1 Mini Blender & Food Chopper not only utilizes kitchen space efficiently but also makes it easy to clean. The appliance comes with detachable parts which makes it extremely easy to clean the appliance and prepare food in a hygienic way.
Last Few Words
Those were some of the unique features of the all-new appliance introduced by KENT. The smart and portable kitchen appliance is available at an affordable price of INR 4,950. To find out more about the product, click here.