December 22, 2021
Delicious Cakes you can Prepare this Christmas
Christmas is incomplete without a lavish spread of cakes, cookies, and other sugary delights. A cake is a must-have on the Christmas Dinner Spread. Synonymous with Festivity & Celebration, cakes add to the cheer of any celebration, and their role becomes even more valuable on Christmas Eve. Whether it is a traditional plum cake or an apple cake, you can try making a different variety of cakes this Christmas. Though most of us prefer to order ready-made cakes from bakeries, you can also make these delicious cakes at home with the KENT Atta and Bread Maker. All you need to make a perfectly soft Christmas cake are the right ingredients.
When baking a cake at home, you can change the components to meet your dietary needs. You can switch the ingredients to customize the cake for you & your guests and make sure that everyone has something to cherish on the Christmas Dinner Table. So, if you want to bake some fresh cakes at home this Christmas, we've got some simple and quick Christmas cake recipes for you. We have listed 5 fantastic Christmas cake ideas that you can prepare at home. Before we get into the cake recipes, here are a few tips to help you make a soft, delicious, and flawless cake that too at home.
Secrets to Bake a Perfect Cake this Christmas
Baking a soft, fluffy cake is not difficult when you know the right way to bake it. So, if you are baking a cake for the first time, here are some secrets that will help you out.
Preheat the Oven
Before you start baking, preheat the oven. This is because your cake will not rise if the oven is not hot enough, especially if you use fan ovens. These ovens may sometimes dry out the cakes, which is why you should utilize the traditional setting.
Add Cornstarch
To make a light and moist cake, add two tablespoons of cornstarch to every cup of cake flour. Sift it together before you add it to the mix. This will help in keeping the cake light and moist.
Use Egg Yolks
Substitute whole eggs with two egg yolks. Egg yolks will make your cake rich and dense as yolks don't hold as much air as egg whites.
Use the Right Temperature
Mix the ingredients at the right temperature. The butter and eggs that you use need to be at room temperature. Cold butter doesn't cream well, and cold eggs will curdle the cake mixture.
Don't Peek Frequently
Put the cake mixture in the oven as soon as it's ready. When baking, don't open the oven door until the cake is prepared. Your cake will collapse if exposed to cool air in the oven. Before peeking into the cake, be sure it's completely set.
Make your Favorite Christmas Special Cake with KENT Atta & Bread Maker
Here are some Christmas special cake recipes you can make at home. Try these recipes to make this Christmas more special and memorable.
Coconut Layered Cake
Coconut is everyone's favorite and hence can be included in the cake to make it more delicious. The ingredients needed to make the coconut cake are 2 cups coconut, milk, flour, baking powder, salt, butter, sugar, eggs, and vanilla extract. Below are the directions to make the coconut-rich cake at home.
Recipe
Beat the butter, shortening, and 2 cups sugar until the mixture gets light and fluffy. The color of the mixture should be slightly lighter. One at a time, add the eggs, allowing each to integrate into the butter mixture before moving on to the next. With the last egg, beat in the vanilla extract. Now, add the flour mixture and the coconut-milk mixture, and whisk until nicely blended. Add 2 cups of grated coconut into the mix. After that, pour the mixture into the pans and bake in the preheated oven until it turns golden.
Plum Cake
Christmas celebration is incomplete without a delicious plum cake loaded with nuts. The ingredients you need to make the plum cake are – Refined flour, Brown sugar, Almonds, Walnuts, Milk, Unsalted butter, Powdered Cinnamon, Vanilla Essence, and Baking Soda.
Recipe
Mix flour and baking soda in one bowl and brown sugar and butter in another bowl. Mix together till the sugar dissolves completely. Add eggs and beat the mixture till it becomes light and frothy. Gradually add flour to the egg, butter, and sugar mixture with the help of spoons to avoid lump formation. Add milk, vanilla essence, cinnamon powder and blend well. Let the mixture rest for some time. Add the chopped nuts to the batter and pour the mixture into the bread pan. Select the 'cake' function from the pre-set menu.
Red Velvet Cake
Red velvet cake is a chocolate layered cake with ermine icing that is traditionally red, red-brown, crimson, or scarlet in colour. Ingredients required to prepare red velvet cake at home are- all-purpose flour, salt, sugar, baking soda, cocoa powder, buttermilk, eggs, vanilla extract, oil, and edible food colour.
Recipe
Mix flour, cocoa powder, salt, and baking soda, and keep the mixture aside. After that, mix eggs and sugar in a different bowl. Now, add some oil to whisk well and ensure no lumps are present in the mixture. Next, add buttermilk and the flour mix to mix well, adding vanilla extract and food colour. Lastly, add the mixture into cake pans and bake until cooked.
Mud Cake
If you are a big fan of chocolate, you definitely need to try making a mud cake this Christmas. The rich, chocolaty delight is easy to make and will be loved by your guests. To make the cake you need- all-purpose flour, butter, cocoa powder, heavy cream, dark chocolate, egg, powdered sugar, and baking powder.
Recipe
Melt butter in a pan and add chocolate, sugar, and ½ cup sugar. Keep stirring till you get a smooth mixture and refrigerate for 10 minutes. In another bowl, add eggs, flour, baking powder, and cocoa powder. Mix well and add with the chocolate mixture. Pour the mixture into the bread pan and choose to press the 'cake' button from the menu. For the ganache, melt and mix chocolate and cream in a pan until smooth. Pour the ganache on the cake and refrigerate for 30 minutes.
Fruit Cake
A traditional recipe, fruitcake has a mixture of fruits, grated carrots, and nuts. To make the recipe, you need all-purpose flour, mixed fruits, a pinch of salt, orange essence, eggs, vinegar, baking powder, baking soda, powdered sugar, powdered cinnamon, and melted butter.
Recipe
Grease the bread pan with melted butter and sprinkle some refined flour. Dry mix refined flour, baking powder, salt, and baking soda together. Beat 2 eggs till you get a creamy mixture. Gently mix the flour and if required add 1 to 3 tablespoons of water. Add the fruits, nuts, orange essence, and vanilla essence. Bake the cake till it's done.
Last Few Words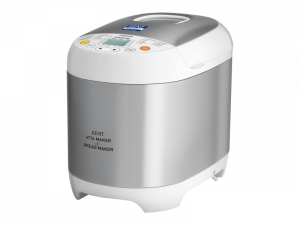 These are a few simple cake recipes that you can try cooking at home this Christmas. Even if you don't have an oven, the KENT Atta and Bread Maker allows you to make delicious and classic cakes at home without any difficulties. This helpful appliance can be used to prepare a range of bread in addition to cakes. Discover more about KENT Atta and Bread Maker in our Cooking Appliances section.