April 8, 2022
Everything You Need to Know About RO With The Goodness of Copper
The quality of water has deteriorated over time, and this is the reason why almost every home needs a water purifier these days. Its primary function is to make water pure and healthy for human consumption by disinfecting the impurities present in it. Talking about pure water, nowadays Copper RO water is widely preferred by the people because of its numerous health benefits. Keeping in mind the worthiness of it, KENT has introduced a range of RO water purifiers with active copper to provide pure and healthy potable water for your family.
KENT's Range of RO Water Purifiers with Active Copper
Consuming impure water can cause harmful health effects and even deadly waterborne diseases, thus KENT has presented a range of RO water purifiers with active copper. Read more to know about KENT Ace Copper and KENT Supreme Copper that comes with the goodness of copper.
KENT Supreme Copper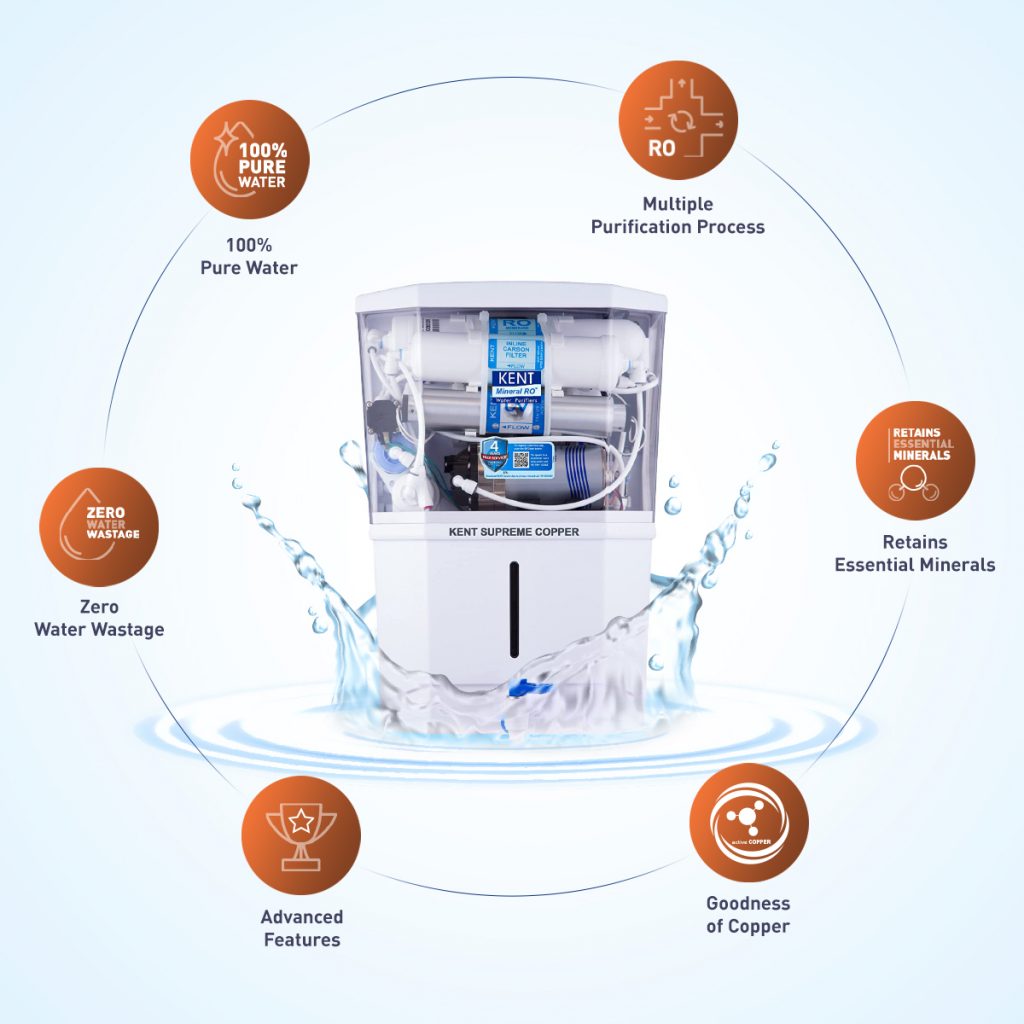 With the latest technological advances, Kent presents its all-new KENT Supreme Copper RO+UV+UF+Copper+TDS Control water purifier. Along with an attractive wall-mounted design, this purifier comes with a ROTM technology that can hold natural minerals essential to provide pure and healthy purified water. Also, its storage tank contains a UV LED Light for purifying & keeping the water bacteria-free. Further, the ultra-modern water purifier also comes with Zero Water Wastage technology that saves every single drop of rejected water during the filtration process. Along with all other advanced highlights, this smart RO water purifier also comes with the goodness of copper.
KENT Ace Copper
The next in the line of RO water purifiers with copper is KENT Ace Copper. This next-generation RO water purifier comes with RO, UV, UF, Copper, and TDS control. To retain the essential natural minerals in the purified water, the advanced water purifier is also equipped with Mineral ROTM Technology. It also has UV LED Light attached to the storage tank, to ensure that the stored water never gets contaminated with bacteria.
Moreover, the Zero Water Wastage technology of this RO water purifier has a unique characteristic and that is to conserves every drop of rejected water as it passes through the purification process. The purifier is designed for use in domestic purposes thereby making it ideal for the purification of tap water, municipal corporation water, and brackish water. Not only this, but KENT Ace Copper also comes with a unique USP i.e. the goodness of copper, which makes the water healthy for consumption.
5 Health Benefits Drinking Copper Water
1. Enhances immunity and overall well-being
Adequate copper levels are essential for a robust immune system. Kent Copper⁺ RO enriches water with 99.8% pure copper, bolstering immunity, protecting against diseases, and promoting the well-being of your family.
2. Boosts metabolism
Copper-infused water aids in boosting metabolism and calorie burning. Copper plays a crucial role in breaking down fat cells for energy, making it vital for a healthy metabolism. With Kent Copper⁺ RO, consuming 2 litres of copper-charged water daily can fulfill up to 30% of the recommended daily allowance for copper.
3. Improves digestion
Copper water aids in breaking down food particles, enhancing digestion, and supporting the proper functioning of the digestive system. It also promotes the absorption of essential nutrients by the liver and kidneys. Kent Copper⁺ RO allows you to consume copper-enriched water throughout the day.
4. Stimulates brain function
Copper is vital for optimal brain function, aiding in learning, memory, and signal transmission. It supports the brain's defence system and provides energy to brain cells. Consuming the right amount of copper, along with essential minerals, enhances brain productivity and creativity.
5. Supports weight loss
Drinking copper-infused water facilitates natural weight loss by breaking down fat and improving digestive efficiency. It also helps eliminate toxins and promotes a healthier feeling overall.
The Bottom Line
Being the world's best RO purifier brand, KENT water purifiers are designed with the most advanced purification technology of RO+UV+UF+Copper+TDS Control that can help in protecting your family with the purest drinking water. Its range of RO water purifiers added with active copper brings together the goodness of copper and ensures that you receive pure and healthy drinking water.