September 30, 2019
Best OTG Ovens Buying Guide 2023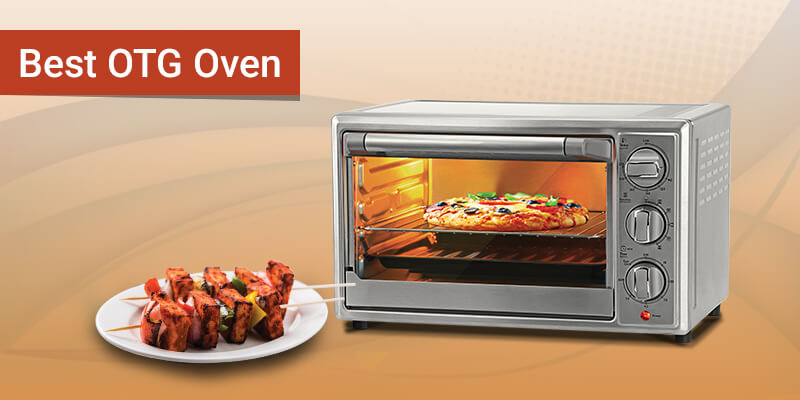 Almost everyone loves eating baked, grilled, or roasted food. However, using different appliances for baking, grilling or roasting is not only difficult but also cumbersome. The increasing amount of health problems is one of the reasons why people prefer cooking at home rather than eating out. An appliance that can help you prepare your favorite baked or grilled dishes at home is the Oven Toaster and Griller (OTG). However, considering the number of options available in the market, choosing an OTG can be a tough task. If you too are planning to buy an OTG, the buying guide is for you.
Difference Between OTG Oven and Microwave Oven
A common question that many people have in their mind is whether they need to get an OTG or microwave oven. Though both the products look similar, there is a lot of difference in their functionality. If you need to bake, grill, toast or reheat food, or make simple meals like cook rice, and noodles go for a microwave oven. However, if you need to make baked, grilled or roasted food with perfection, you need to opt for an OTG. The following table will help you understand the difference between OTG and Microwave Oven.
| | | |
| --- | --- | --- |
| Specification | Microwave Ovens | Oven Toaster and Griller (OTG) |
| Preparation time | Takes less time to cook | Takes more time as it uses traditional heat waves |
| Pre-heating time | Approximately 5 minutes | Approximately 15 minutes |
| Power Consumption | High | Low |
| Baking Quality | Average | Ideal for baked foods |
| Maximum Capacity | 32 liters | 60 liters |
| Weight | Very heavy | Lightweight |
| Ideal for | Reheating, defrosting, and baking for beginners | Professional bakers |
10 Important Features of OTG and Buying Guide
Capacity
Warranty
Power Consumption
Rotisserie
Usage
Controls
Price
Keep Warm Function
Additional Attachments
Auti Shut-Off Function
1. Capacity
The most important feature that you need to consider is the capacity of the OTG. Depending on the family size and purpose, you can choose from 10/20/30L capacity of the OTG. A large-sized OTG is not only ideal for holding containers but also needs more energy to operate. However, make sure that you consider the family size and the quantity of food that you prepare before deciding on the capacity.
2. Warranty
OTGs from different brands come with different warranties. Make sure you check the warranty of different brands and go for an OTG that has a longer warranty period.
3. Power Consumption
Similar to all the other kitchen appliances, the power consumption of OTGs varies. The models that are bigger in size consume more power to operate as compared to the smaller ones. Check your cooking needs in advance before selecting an OTG. If you don't prepare a lot of baked items, you can choose a model with lower power consumption.
4. Rotisserie
OTGs come with and without rotisserie function, which is ideal for cooking meat. If you are a vegetarian, you can go for an OTG without the rotisserie function. However, if you need an OTG with rotisserie, make sure it's automatic for the convenience of use.
5. Usage
Before you buy an OTG, make sure you check the usage of the product. If you want to use the OTG for cooking, go for a higher-capacity appliance. In addition, if you wish to use the appliance for defrosting and heating, go for a smaller oven.
6. Controls
Every OTG comes with a control panel which makes it easy to manage and control the operations and functions of the oven. Depending on your convenience, you can choose the following control panels:
Analog- An OTG with analog controls has mechanical switches along with knobs. These ovens are inexpensive and long-lasting.
Digital- These OTGs have digitally controlled push buttons. Digital control OTGs have more accurate settings.
7. Price
Price is one of the most important factors that you need to consider when buying an OTG oven. A higher capacity OTG is more expensive than the one with a lower capacity. However, before buying an OTG oven, check the reviews to ensure that you make the right decision.
8. Keep Warm Function
Some of the OTGs come with an advanced feature of 'Keep Warm' function, which helps in retaining the freshness and warmth of your food. This unique function also ensures that you don't need to reheat the food.
9. Additional Attachments
The OTGs available in the market also come with some additional attachments, which makes cooking easy. When buying an OTG, check whether the appliance has some additional attachments such as a baking pan, detachable crumb tray, and skewer.
10. Auto Shut-Off Function
For the safety of the users, KENT OTG comes with an auto shut-off function, which also saves from multiple trips to the kitchen. Thanks to this option, the OTG oven turns off automatically when the food is cooked completely.
Last Few Words
OTG oven can make the dishes that are made using a microwave. The appliance can also make baked and grilled food with perfection. However, before buying an OTG oven, make sure you check the important points mentioned above to make sure you buy the right product. KENT has also come up with a range of OTG ovens. To find out more about the products, click here.