November 13, 2019
5 Smoothies to Warm up your Winter Mornings
The refreshing and chilled smoothies that we enjoy in summer, lose their appeal in winter. The dipping temperatures increase the craving for foods and drinks that help in staying warm. In addition to soups, you can also try some delicious smoothies that are not only tasty but also keep you warm. All you need is KENT Turbo Grinder and Blender to prepare your favorite winter smoothies with perfection. So, to warm up your winter mornings, here are some healthy smoothies recipes you can try at home.
Health Benefits of Drinking Smoothie
Before we share the recipe for the different smoothies, let's discuss the benefits of drinking smoothies. Read on.
Weight Loss
If you are trying to lose weight, switch to smoothies. The miracle drink helps you lose excess weight without skipping your meals. The ingredients such as berries and fruits are excellent for keeping you healthy and the enzymes help in dissolving body fat. These also help in cleaning your circulatory system.
Keeps you Hydrated
A lot of people are severely dehydrated, especially during winter. Including smoothies in your diet ensures that you consume an additional amount of water in your diet. This will also ensure that you are not dehydrated in the summer.
Helps Digestion
Digestive disorders are a common problem faced by a lot of people. An unhealthy diet and an inactive lifestyle are some of the reasons for a digestive disorder. Smoothies, especially the green ones, are loaded with fibers that improve digestion and provide relief from some of the common digestive disorders.
Improves your Skin
If you are struggling to get glowing skin, drinking smoothies can be of great help. Smoothies are high in nutrients such as vitamin E, C, fiber, and antioxidants, which work together to make your skin clear without costing you a fortune.
Improves Immunity
A weak immune system makes you vulnerable to a lot of diseases. Smoothies contain a high amount of nutrients such as beta-carotene, which boosts your immunity and keeps you safe from diseases.
Smoothies for Winter
Here are some of the smoothies that you can make this winter.
Black Forest Smoothie
A cup of hot chocolate is all you need on a chilly winter evening after a hard day at work. To give this delicious drink a twist, you can add some healthy ingredients such as dark chocolate, oats, bananas, chia seeds, and almond milk. Chia seeds are packed with antioxidants, minerals, and other nutritional properties. Add some almond milk and dark chocolate to a microwave to melt it. Add the banana, chia seeds, and almond milk to the blender and grinder.  Pour the blended oat mix into your cup and stir it into the almond and chocolate mix. Your smoothie is ready.
Warm Banana Smoothie
The filling smoothie tastes like banana-flavored bread and takes only a few seconds to prepare. The best part is the smoothie is dairy-free and has no added sugar, which gives a perfect start to your mornings. Loaded with vitamin B6, and tryptophan, bananas boost the production of serotonin, which improves your mood and makes you feel relaxed. All you need to do is add some walnuts, warm water, ripe banana, and some vanilla extract to the KENT Turbo Grinder and Blender and process until you get a creamy mixture.
Also Read: 3 Types of Grinder and Blenders for Your Multiple Kitchen Chores
Orange and Cranberry Smoothie
The very basic yet tasty smoothie is made with some very basic ingredients such as banana, orange juice, yogurt, and cranberry. Orange is loaded with Vitamin C which helps in keeping away cold and cough. Cranberries are a storehouse of antioxidants and nutrients, which is the reason why you need to add this superfood to your diet. Add all the ingredients to the blender and blend for 1-2 minutes.
Orange Ginger and Turmeric Smoothie
The smoothie is also an ideal winter detox drink that will help you keep your weight in check. You can drink this smoothie, especially after the party season. Turmeric is a nutritious powerhouse that is loaded with anti-inflammatory properties ideal for weight loss and preventing cancer. Add all the ingredients and blend them. Your powerhouse breakfast smoothie is ready.
Strawberry and Beetroot Smoothie
Transform your traditional banana smoothie into something unconventional this winter with our unique recipe. To prepare the smoothie, bake the beetroot for some time by sprinkling some water. Add the diced beetroot with strawberry along with some yogurt.  You can also add some bananas and honey to the smoothie.
So, which Smoothie will you Make?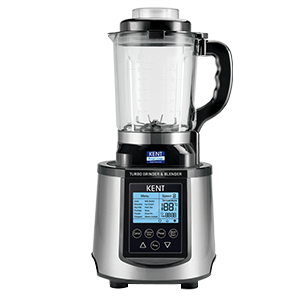 Smoothies are a filling and healthy breakfast option during winter. These smoothies are loaded with essential nutrients and also help you stay warm when the temperatures start dipping. The comfort food for winter varies in taste and also provides you with enough nutrients to balance out the unhealthy meals that you eat. With the range of blenders and grinders from KENT, you can easily prepare your favorite smoothies with ease.