November 15, 2021
Tips To Deep Clean Your Home Quickly And Easily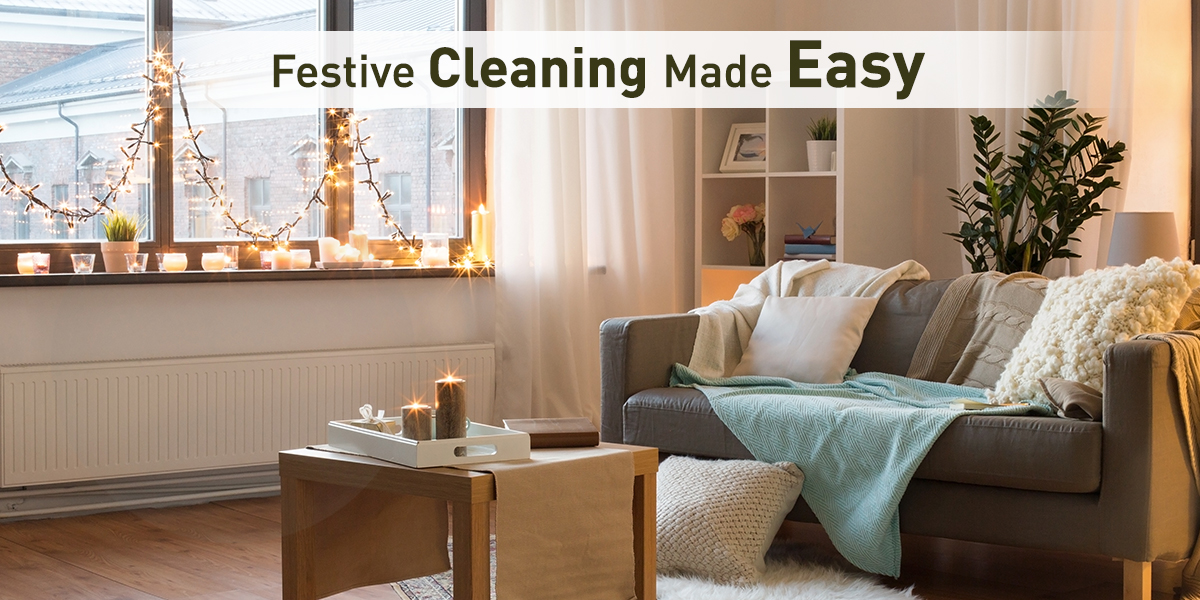 The festival season is almost here, and it is loved by everyone in India as people get some quality time to spend with friends and family. The festival preparation starts weeks before the festival days, where people decorate their homes and do extensive shopping to enjoy the celebration. One of the most important tasks is to clean the house. Everyone tries their best to make their home festive ready. However, festive season cleaning is easier said than done. Most of us follow the traditional ways of cleaning the house, but with advanced technology, it is wise to choose products like vacuum cleaners to make the task convenient. Brands like KENT offer a wide range of vacuum cleaners that are not only easy to use but also save a lot of time and energy and can help you quickly clean every difficult corner of your home before the festive season.
To make your work easier, we've compiled several tips to help you make your home festive ready.
Cleaning the house seems impossible without a good timetable so you should put together a cleaning routine to make things easier. Decide which areas of the house you want to clean each day. This will make it simple to clean your home, especially if you are a working professional. Another thing to remember is to set aside a space where you can store all unwanted items. This will help you in keeping your house organized.
Begin by dusting the tops and undersides of furniture, as well as railings, frames, and tv screens. Cleaning sofas and carpets are the most difficult, especially when done manually. Therefore, you should consider getting a reliable vacuum cleaner instead of using the old methods of cleaning. You must choose a vacuum cleaner from trusted and reliable brands like KENT to clean your house hassle-free. The Wet and Dry Vacuum Cleaner by KENT removes dry dust and cleans wet spills easily. Products like KENT Zoom vacuum cleaner can also help in efficiently wiping out the dust and making your sofas and carpets dirt-free.
De-clutter your house and get rid of the mess: –
Before you begin with the cleaning procedure, you must first clear your home. Cleaning a cluttered house is not only challenging but also time-consuming. Therefore, before you start, make sure to get rid of all unwanted stuff from clothes to outdated eatables present in your house.
These were some tips you can follow in cleaning your house to make it festive ready. Usually, people follow the traditional way of cleaning their home; some opt for convenience and choose an effortless way to save time. An efficient way to save time is to use a Vacuum cleaner to clean your house. It removes the dirt from the targeted area faster. Apart from this, its blowing function helps remove deeply embedded dust. Moreover, in terms of technology, KENT has a variety of Vacuum Cleaners which makes cleaning an easy task. Out of the wide range, below mentioned are the two best vacuum cleaners you can use to clean your house and make it dirt-free.
KENT Zoom Vacuum Cleaner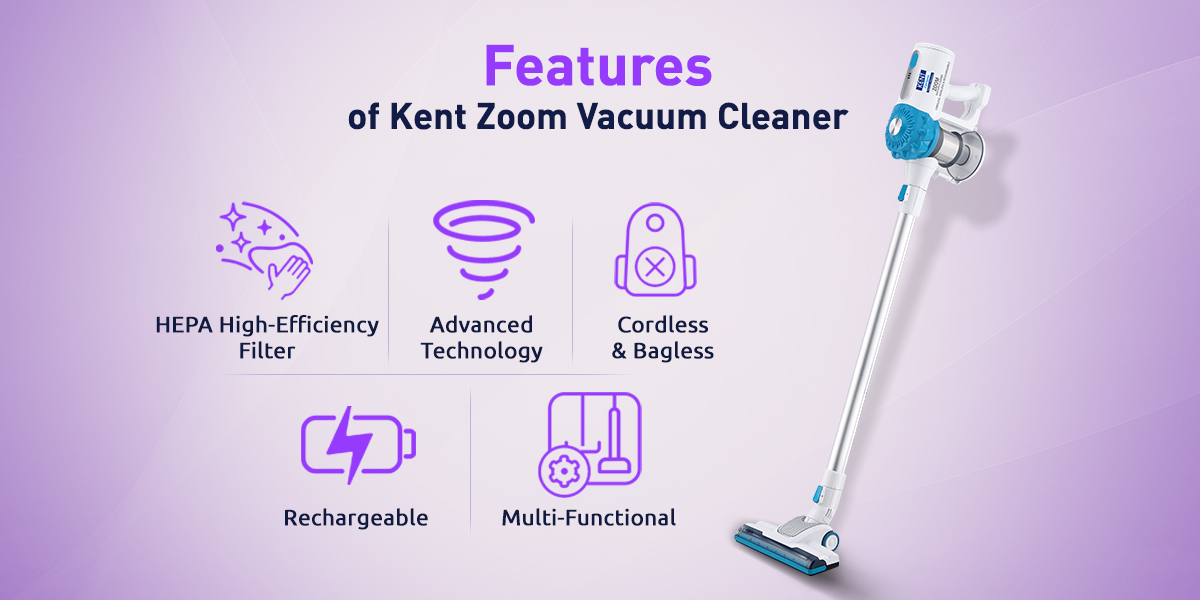 The next vacuum cleaner that you can opt for home cleaning is KENT Zoom. It is a highly efficient home appliance that provides an easy and convenient way to make those difficult-to-clean areas dirt-free. The Zoom vacuum cleaner is rechargeable and cordless that promises the freedom of cleaning the higher areas of the house easily. By using this vacuum cleaner, you can efficiently clean any area of the house and car in a hassle-free manner. It comes with a HEPA filter that reduces air pollution and makes your home dirt-free and hygienic. KENT Zoom vacuum cleaner is made up of a lightweight ABS body that makes it easy to carry and operate. Moreover, it helps deep clean every corner of the home, even the hard-to-reach places.
KENT Wet and Dry Vacuum Cleaner 
KENT Wet and Dry Vacuum cleaner is a versatile home appliance that can do all the cleaning tasks efficiently. The outstanding product eliminates the struggle to frequently empty the container after every few cleanings. The Wet and Dry Vacuum Cleaner by KENT includes a powerful suction force and a high-efficiency motor making it simple to clean any form of wet spills and dry dust. Therefore, it makes it easy to deep clean every surface of the house. In addition, its high-efficiency motor with a powerful suction force helps cleaning competently. Moreover, it is low weight and has a rubberized wheel which makes it easy to move.  Hence, Kent Wet and Dry Vacuum Cleaner can be a good choice if you want to make the cleaning task easy.
KENT Force Cyclonic Vacuum Cleaner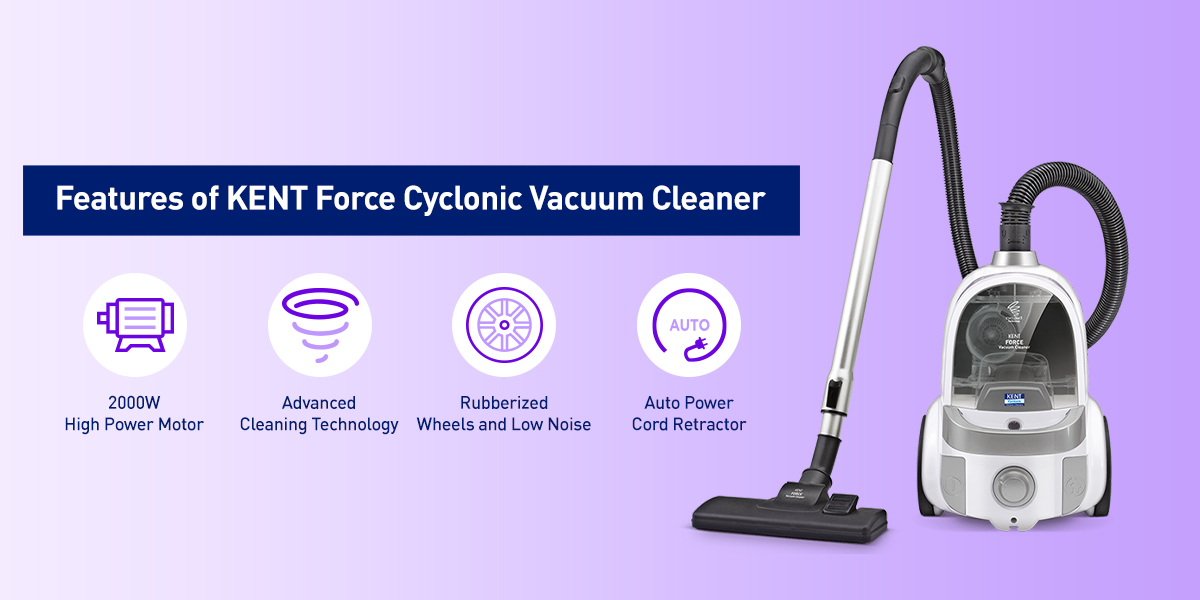 The KENT Force Cyclonic Vacuum Cleaner makes it simple to deep clean every inch of the house. It is convenient to use because there is no bag to handle. Also, its high-performance motor, advanced HEPA filter, and cyclonic technology of this product make it a highly efficient cleaner. Additionally, it comes with accessories such as a crevice tool that can be used to easily clean different surfaces. Moreover, it is made with advanced technology and hence, it saves a lot of time and helps in deep cleaning every corner of the house.
Conclusion
The festive season in India involves a lot of work, like cleaning and decorating the house. So, to save your time and energy to enjoy the festivals fully, you must purchase a vacuum cleaner that can help finish the cleaning task in no time. A vacuum cleaner is an electrical device that is safe, reliable, and engineered by experts. So, bring home the smart appliance this festive season and make the cleaning convenient.