November 22, 2021
From Dosa Batter To Smoothies – Make Everything Fresh At Home
Making fresh dosa and at home is an experience in itself. The crisp, flavorful dosa combined with nutty coconut chutney and piping hot sambhar make for a perfect healthy breakfast. You can experiment with the fillings and the batter for more variety. However, to make dosa at home you need to prepare the batter and to prepare it proper blending is recommended. To meet with this need, KENT's range of powerful grinders and blenders can be helpful. The robust build and superior features of Kent blenders make it possible to blend, grind, and mix with ease.
Make Dosa Batter with KENT Power Grinder and Blender Plus
Dosa batter preparation requires you to prepare an appropriate batter that has a spreadable consistency for perfectly cooked dosa. This isn't an easy task with regular blenders – as they don't have the required power and built to do such blending and mixing. KENT Power Grinder and Blender Plus is a 1200 W high speed blender  that allows you to make dosa batter in a jiffy and with smooth consistency.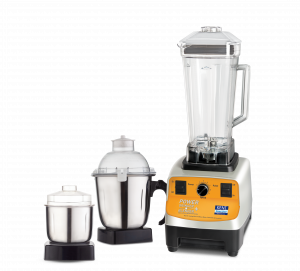 The features of KENT Power Grinder and Blender Plus include –
Variable Speed with 30,000 RPM – The variable of 30,000 RPM allows you to make batters, purees, smoothies, chutneys, and grinds spices and even raw turmeric with ease.
BPA-Free and Stainless-Steel Jars – The KENT Power Grinder and Blender comes with 3 BPA-Free stainless-steel jars. A 2L BPA-Free Wet Blending Jar, 1L SS Grinding Jar, and 400 ml chutney jar are also provided with appliance.
Lockable Jars and Lids – Lockable jars and lids make sure you can blend, grind, and mix the ingredients without making a mess.
Pulse Function and Speed Control – The pulse function and speed control help you grind and blend the ingredients as per your preference.
Overheating and Overcurrent Protection – This device is protected from overheating and overcurrent due to voltage fluctuations. These features ensure your safety while using this kitchen appliance.
Warranty – The KENT Power Grinder and Blender Plus comes with a warranty of 2 years on the device and 5 years on the motor. This ensures that your blender is protected.
All these features let you easily make dosa batter at home. The convenience and value-for-money pricing make KENT Kitchen Appliances a must have for your kitchen. All these features give you the power to make the foods of your choice without any hassle. The device is a perfect addition to your counter-top and would help you make healthier food choices.
Take Away
Making healthy and delicious foods like dosa is a great way to include nutritious foods in your life. When you make it at home, you don't even have to worry about the quality of the ingredients, the hygiene, or the nutrient content. You can make delicious dosa at home with the choicest ingredients and add different flours, fillings, and chutneys to increase the nutrients of the meal. Investing in devices such as KENT Power Grinder and Blender Plus ensures that you can make dosa batter at home fresh from the comfort of your home. KENT Appliances have a robust build and are convenient and easy to use. The warranty on KENT products ensures that your kitchen appliance works well even after a considerable amount of use. Investing in good kitchen appliances helps you make healthier foods at home thereby improving the health of your family.