September 18, 2017
3 Nutritious Pasta and Noodle Recipes You can Try Instead of Refined Pasta
Noodles and pasta have become a part of our diet. The different shapes, sizes, and sauces to go with the pasta make it almost impossible to resist this delicious snack. Readymade noodles and pasta, however, have a lot of carbs and preservatives, which make them unhealthy. As a result, many people cut off noodles and pasta from their diet to eat healthily and stay away from refined carbs. However, with the introduction of KENT Noodle and Pasta Maker, it has become possible to prepare healthy and tasty pasta at home from scratch. The noodle and pasta-making machine enable you to mix healthy ingredients in the dough to ensure that you eat tasty and preservative-free noodles and pasta at home. In this blog, we discuss some healthy pasta and noodles recipes you can try at home.
Quinoa Pasta
One of the most popular health foods, quinoa is gluten-free, has high protein content, and all 9 essential amino acids. Quinoa pasta will provide you with more fibers than most of the other grains. The presence of iron, lysine, magnesium, riboflavin, and manganese makes it a perfect snack that is healthy and tasty. Quinoa pasta also helps in reducing blood sugar and triglyceride levels and insulin. Here's how you can make quinoa pasta:
Ingredients:
• 1 ½ cup quinoa flour
• ½ teaspoon salt
• 1 tablespoon olive oil
• 1 cup of warm water
Put all the ingredients in the KENT Noodle and Pasta Maker and turn on the auto mode. Depending on the shape of the pasta that you need, select the suitable die to cut the pasta in the desired shape.
Spinach Noodles
Spinach is a wonder vegetable that has a lot of health benefits. Whether you want beautiful hair, skin, or fight against diseases, spinach is the answer to everything. With the availability of the KENT Noodle and Pasta Maker, it has become quite easy to customize the ingredients of noodles and pasta.
Ingredients:
• 1 ¼ cup spinach
• 1 cup of water
• 1 egg
• ½ teaspoon salt
• 1 ¼ cup all-purpose flour
Put all the ingredients including the spinach in the KENT Noodle and Pasta Maker and keep the machine in auto-mode. Extrude the pasta when ready.
Whole Wheat Pasta
One of the easiest recipes, whole wheat pasta is healthy and tasty at the same time. Whole wheat is always a healthier alternative than all-purpose flour, especially if you are preparing pasta for your kids. Whole grain pasta is considered to be an excellent source of Vitamin B as well as iron. This pasta also provides a higher amount of alpha-linolenic acid, which turns into an omega-3 fatty acid in your body. To make the pasta healthier, add beetroots and eggs.
Ingredients:
• 2 cups whole wheat flour
• 2 eggs
• ¼ teaspoon salt
• Water
Put all the ingredients in the noodle and pasta maker and set it on auto mode. Use your preferred die to get the pasta shape of your choice. Before boiling the pasta, let it dry for 10-20 minutes.
Last Few Words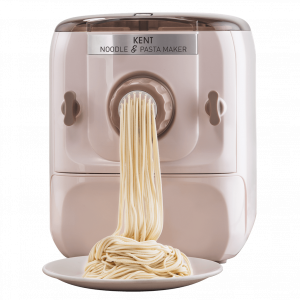 Those were some of the healthy and tasty pasta recipes that you can make from scratch using the pasta and noodle-making machine. With the increasing number of health problems, it has become necessary to switch to healthier eating alternatives. Thanks to the handy pasta and noodle machine, you can easily customize the ingredients of the dough to give the noodles and pasta a healthy twist. Now, you can enjoy your favorite noodles and pasta without any guilt. To find out more about the KENT Noodle and Pasta Maker, visit our website