July 26, 2019
Tired of Excessive Hair Loss? Here are Some Effective Remedies for Hair Fall Control
Hair is your 'crowning glory' that adds to your personality and style. However, the use of endless products, styling, lack of maintenance, poor diet, quality of water, and age take a toll on your hair health. Losing approximately 50-100 strands of hair a day or during monsoon is no big deal but excessive hair loss is an alarming situation that needs immediate attention. So, if you too are facing excessive hair fall without any apparent reason, this blog is for you. Read on to find out the reasons, symptoms, and remedies to prevent hair fall.
Hair Loss Symptoms: How Much is Too Much?
Losing some strands of hair on a daily basis is quite common. Hair loss occurs when for some reason your hair stops growing, which is also known as anagen effluvium. The question is how much hair fall is normal and when should you start worrying? If you lose more than 80-100 strands or 10% of your hair and haven't noticed a decrease in hair loss even after 7-8 weeks, it's time for you to get some help.
Symptoms of Hair Loss
Thinning of hair on the top of the head
Receding Hairline
Spotting of Bald Patches
Broken Hair
In short, if you are always picking up strands of hair from your shirt or the shower drain is always clogged with hair, it's a sign that something is wrong. These are evident signs of excessive hair loss and it's necessary for you to find out the reasons for hair loss before it's too late.
7 Reasons for Hair Fall
Before you switch to some expensive hair care products, it's necessary to dig in deep to find out the reasons. There are 7 reasons why hair fall.
You Use Hard Water
You Follow a Poor Diet
You Use Excessive Heating Products
You Take a Lot of Stress
You have Anemia
You have Hypothyroidism
You have Alopecia
Let us discuss the above-mentioned reasons in detail.
1. You Use Hard Water
A common cause of excessive hair fall that many people are unaware of is using hard water. The excessive amount of calcium and magnesium present in hard water leads to dandruff, dryness, and hair loss. Hard water destroys the hair follicles making them dry, frizzy, and brittle leading to hair breakage and hair loss.
2. You Follow a Poor Diet
A proper diet is not only essential to stay healthy but also to maintain your hair growth. Poor diet has an irreparable effect on your skin and hair. As you age, your body produces less Vitamin E, which is essential for healthy hair and skin, thereby leading to hair loss.
3. You Use Excessive Heating Products
Straightening or blow-drying your hair once in a while is fine. However, excessive curling or straightening can be excessively damaging for your hair. The heating treatments influence your hair follicles, resulting in loss of moisture. The hair shaft is damaged as a result of excessive heat leading to severe hair fall and rough hair.
Quick Tip: Use heat protection spray when using a hairdryer or straightener
4. You Take a Lot of Stress
There is a direct link between stress and hair fall. Lack of sleep and a crazy work schedule takes a toll on your hair health. So, if you have excessive hair fall without any reason, you may be highly stressed and there is a need to change your lifestyle.
5. You Have Anemia
Approximately 1 out of 10 women aged between 20-49 years suffer from anemia as a result of iron deficiency. This is one of the main reasons for hair loss among women. However, anemia is an easily fixable hair loss problem.
6. You Have Hypothyroidism
An underactive thyroid is also one of the reasons for hair loss. The thyroid produces important hormones that are vital in maintaining your metabolism, growth, and development. When the gland doesn't function properly and can't pump out enough hormones, it leads to hair loss.
7. You have Alopecia
An auto-immune disorder, alopecia areata affects the hair follicles leading to hair loss. The condition equally affects men and women. Though the cause of alopecia is unknown, it may be triggered by some kind of illness or stress.
Natural Remedies for Hair Fall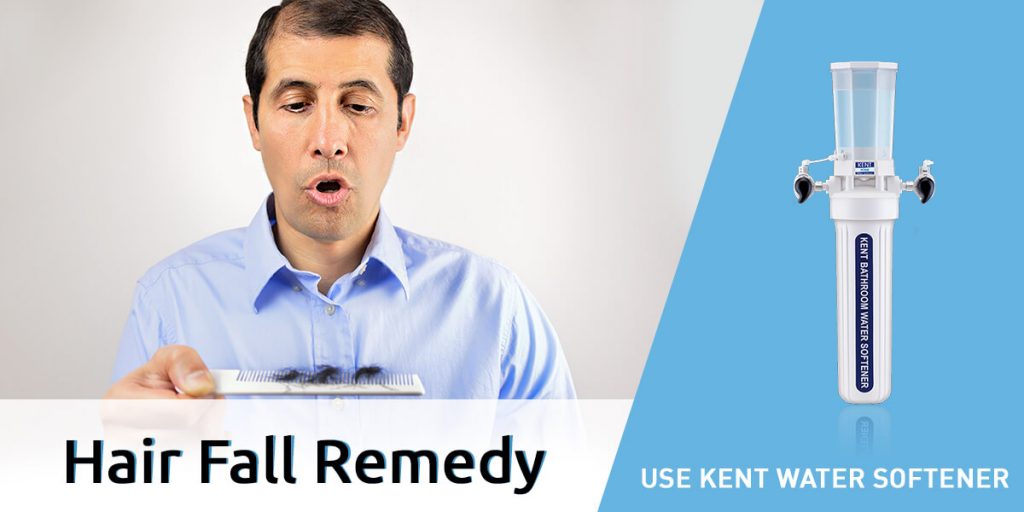 A common question in the mind of every person suffering from excessive hair fall is how to prevent hair loss. If you too are experiencing excessive hair loss, here are some effective hair fall solutions that can help you control the situation to a great extent.
1. Check your Water Quality
One of the common causes of hair loss that most of you oversee is the quality of water. Hard water can cause irreversible damage to your hair. The excessive amount of calcium, magnesium, and salts present in hard water form a layer on your hair strands, which dries out your hair. When your hair is not washed properly, the residue accumulates on your scalp leading to dandruff and breakage. Hard water also has a high pH level, which charges your hair negatively resulting in friction and breakage. Hard water has a pH level of 8.5 whereas the pH level of your hair is 3.5. As the pH level of water is almost 50% higher than the pH of your hair, it damages your tresses. So, if you are losing hair even after using the right products or eating right, the problem lies in your water. The only way to know whether you get hard water is by getting the water quality tested.
2. Use a hard Water Softener to control hair fall
After getting the water quality tested, if you find out that you get hard water, it's time to install a water softener to prevent hair fall. The only way to deal with the hard water problem and save your hair from excessive damage is by using soft water. The traditional methods of softening water don't serve your purpose and are time-taking. A water softener automatically converts hard water into soft. The non-electric appliance exchanges excessive minerals such as calcium and magnesium with sodium, thereby making the water soft. The compact size makes it easy to install the softener even if you have space constraints. The effective hair fall solution will improve your tresses to a great extent and also prevent breakage.
Quick Tip: Install a bathroom water softener to get a continuous supply of soft water
3. Follow a Proper Diet
In addition to the water quality, it is extremely important to follow a healthy diet. Make sure you include important vitamins, and proteins in your diet to avoid hair fall. Eat foods that are loaded with proteins, vitamin E, iron, biotin, and zinc. Foods rich in Vitamin A promote the production of sebum, whereas Vitamin E improves blood circulation and keeps the hair follicles productive. Lean meat, soy, and fish encourage hair health and also curb hair loss. The food items also help in hair growth in addition to maintaining their texture and quality.
4. Use a Mild Shampoo
Instead of using shampoos loaded with chemicals, go for natural and herbal shampoos. Regularly washing your hair with mild shampoo keeps your scalp clean, thereby reducing the risk of infections and dandruff. When your scalp is clean, it reduces the chances of hair loss.
5. Include more Protein in your Diet
Lack of protein is also a reason for hair loss. This is the reason why you need to include a lot of protein in your diet if you have a hair fall problem. Eat a lot of lean meat, fish, soy, and other forms of proteins to reduce hair loss and promote hair growth.
6. Regular Oil Massage
Oiling your hair has a lot of benefits. Make sure you mix essential oils such as lavender, castor, and almond oils. Massage your scalp at least for 15 minutes. Massaging your scalp improves blood circulation, thereby reducing the chances of hair loss.
7. Don't Brush Wet Hair
Your hair is fragile when it's wet. Combing wet hair increases the chances of hair loss. However, if you must comb wet hair, use a wide-toothed comb to avoid breakage. In addition, don't brush your hair too frequently as it can injure hair and increase hair loss.
Quick Tip: Use a wooden, wide-toothed comb to reduce hair breakage
8. Stay Hydrated
One-quarter of the hair shaft contains water, which is why it is essential to drink a lot of water to avoid hair loss. Make sure you drink at least 3 liters of water per day to stay hydrated and keep your hair healthy.
9. Avoid Smoking
Smoking not just affects your health but also leads to hair loss. Cigarettes reduce the amount of blood that flows to your scalp, thereby affecting hair growth.
10. Exercise
Exercising is the key to good hair. Depending on your preference, you can swim, walk or hit the gym for at least 30 minutes a day to balance the hormone levels, reduce stress, and improve blood circulation to reduce hair loss.
11. Don't Rub your Hair
Many people make the mistake of rubbing their hair right after taking a bath. This habit not only makes your hair dry but also increases the chances of hair loss and breakage. Make sure you don't rub your hair with a dry towel and let your hair dry naturally.
12. Stay Away from Chemical Treatments
Hair coloring, or straightening your hair has a negative effect on your hair. If you are already suffering from hair loss, make sure you don't undergo any type of chemical treatment as it may worsen the situation.
13. Keep your Scalp Sweat-Free
Oily hair leads to dandruff, especially during summer as a result of sweating. This also increases the chances of hair fall. Keep your scalp sweat-free and clean by using a mild shampoo. You can use shampoos that have neem to keep your scalp clean and dandruff-free.
14. Use Homemade Hair Masks
Homemade hair masks are a great way to keep your hair healthy and prevent breakage. Use homemade hair masks made from onion, beetroot, green tea, neem leaves, and fruits to maintain your hair healthy and prevent breakage.
15. Avoid Hot Water Bath
Hair is very delicate, so it is important to avoid excessively hot water to wash your hair. Hot water steals away color and activates the oil-producing glands. Use lukewarm water to dilute the secretion of oil glands and improve blood circulation.
16. Get Sufficient Sleep
Lack of sleep affects your hair and skin. Make sure you get at least 7-8 hours of sleep on a daily basis, which will solve many of your hair problems.
17. Protect your Hair from Sun
The harmful sun rays cause a lot of damage to your hair. The harsh sun rays make your hair shaft brittle and dry, leading to hair fall. Make sure you cover your hair when you go out to save your hair from sun damage.
Quick Tip: Use a hat or leave-in conditioner to avoid damage
18. Tie your Hair when Sleeping
This tip is handy for people with long or medium-length hair. Make sure you tie your hair when sleeping to prevent your hair from being tangled or frizzy. This will prevent hair breakage and hair loss.
19. Rub Green Tea
Green tea is not only good for weight loss but also keeps your hair healthy. Rubbing green tea into hair may curb hair loss problems. Brew two tea bags of green tea in a cup of water and leave it to cool. Apply it to your hair to rinse thoroughly.
20. Use Garlic, Onion, or Ginger Juice
To avoid hair fall, rub garlic, onion, or ginger juice on your scalp. Leave it overnight and wash it in the morning. Make sure to follow this routine once a week for noticeable results.
21. Destress
Stress leads to excessive hair fall. This is the reason why you need to de-stress yourself to avoid hair fall problems. Practice meditation and yoga to reduce stress and also restore your stress level.
Some other Useful Tips to Prevent Hair Loss
Avoid brushing wet hair as it increases breakage
Use a heat protectant before using a straightener or dryer
Avoid taking hot showers as it damages the follicles of your hair
Use hair products that have fewer chemicals
Keep your scalp sweat-free
Don't shy away from visiting a dermatologist if the problem persists
The Bottom Line
As you age, hair loss to some extent is inevitable. Though it is not possible to prevent hair loss completely, there are certain measures that you can use to prevent hair loss. In addition to following the diet tips and using the right hair care products, make sure you check the quality of water that you use. In case you get hard water, make sure you install a water softener to avoid hair-related problems.