June 14, 2017
Make Homemade Noodle & Pasta in Less Than 10 Minutes
Everyone says, fresh products are always better and obviously it is good that you consume fresh food so that you remain healthy. Fresh or homemade products are better than packed ones because you don't add preservatives to the longer shelf life. You prepare it using fresh ingredients and consume it fresh. Do, you know that you can make noodles and pasta at home and you don't need to be dependent on any fast food stalls anymore. If you have flour, egg, and some cheese and vegetables, you can easily make homemade noodles and pasta. The advantage of preparing your own pasta is that you have total control over the exact ingredients and make it according to your taste and preference.
Know About KENT Noodle & Pasta Maker
You might be thinking about how to mix, knead and extrude the flour exactly in the shape of noodles or pasta? How to ensure that the end product is good? For all the questions that you might be having in your mind, there is only one answer and that is KENT Noodle & Pasta Maker. KENT believes that a clean and healthy life is needed for every individual. Keeping this in mind, the brand has introduced a smart cooking appliance that would allow you to make healthy and tasty noodles and pasta within minutes. For those who are conscious about a hygienic and healthy diet, it is one of the modern kitchen appliances best to be used in every household.
What Makes KENT Noodle and Pasta Maker Smart?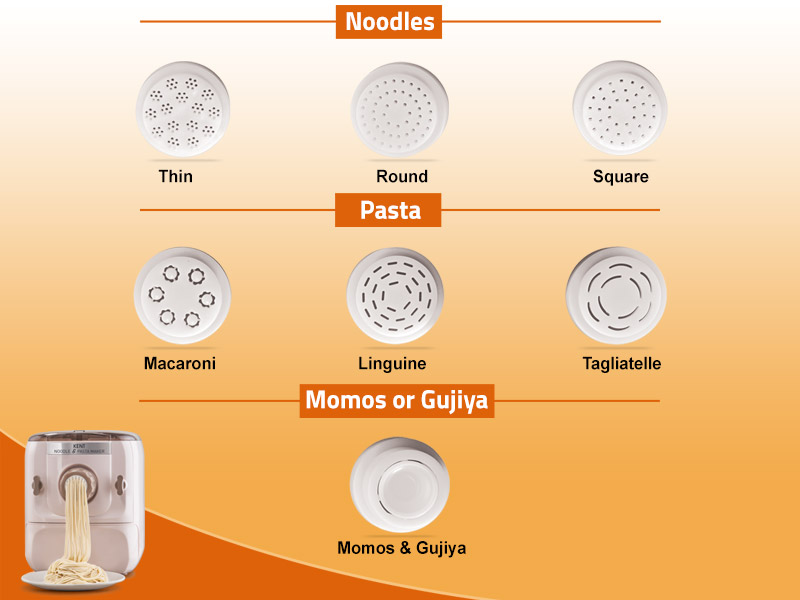 Automatic Mixing, Kneading, and Extruding: The smart cooking appliance can automatically mix, knead and extrude the flour and thereby making it easy to cook a variety of noodles and pasta without any manual intervention.
Add customized Flavors and Ingredients: You can add customized flavors and ingredients like eggs, herbs, vegetable juice and etc., and have a delicious snack time with your family/friends.
7 different Shaping Dies: In order to ensure that you can make noodles, pasta, momos, and gujiya of different sizes and shapes, KENT Noodle & Pasta is added with 7 shaping dies. Use the dies to prepare thin and round-shaped noodles, macaroni, linguine and etc.
Smart Designed Drawer: KENT Noodle & Pasta Maker has a smartly designed drawer that would allow you to store the shaping dies and keep them safe in one place.
Easy to Clean: The smart cooking appliance is not only handy in operation but it is even easy to clean.
You May Also Like Reading: Is Your Child a Fussy Eater? Here's How to Make Delicious and Healthy Snacks at Home
 The smart cooking appliance can be easily used to prepare noodles and pasta all you need to do is to:
Gently lift the container lid and open the mixing chamber
Pour the flour into the mixing chamber. (Remember a maximum of 500 grams of flour can be added).
Close the lid and secure it properly and added water to it in the needed quantity
Plug in the appliance and click on the mix button and the machine would work automatically.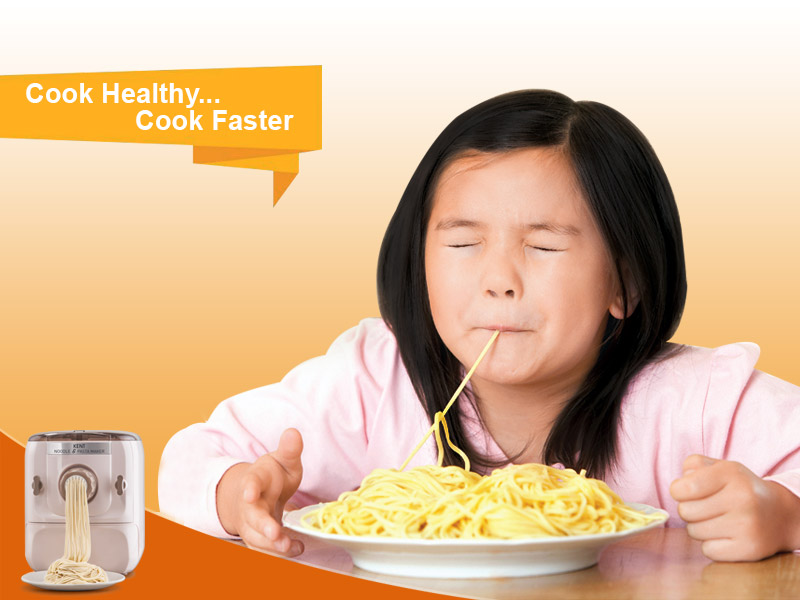 It would automatically mix, knead and even extrude the flour thereby delivering the final product. Finally, you need to cook and serve it. So, by using the KENT Noodle & Pasta Maker, you can make fresh pasta that would be better than dried pasta or packed pasta.