December 13, 2018
Is Wheat Bread Better than White Bread? Find out
Bread is an important part of our breakfast routine. Starting from crispy toast, and stuffed sandwiches to break pakoda, there is a lot you can make with bread. Gone are the days when white bread was the only option available. With a number of options such as atta bread or whole wheat bread available on the shelves of the stores, picking something that is healthy and tasty is difficult. Among the different variants of bread available, wheat bread has gained a lot of popularity. However, a question that many people have in their minds is whether wheat bread is better than the age-old white bread. Read on to find out.
So, what's the Difference between Whole Wheat Bread and White Bread?
The main difference between the two variants is the processing. The flour for both whole wheat and white bread is made from wheat berries. The wheat berries consist of three nutrient-rich parts- bran (outer layers), the endosperm (the starchy part in between), and the germ (the innermost area). Whole wheat bread is processed in such a way that it includes all three nutritious parts. The bran and germ are the main sources of nutrients in whole wheat bread. White bread, however, uses only the endosperm. This is the reason why white bread has less nutritional value than wheat bread and also increases the chances of diabetes. Whole wheat bread provides you with essential fiber as compared to white wheat.
What is the Nutritional Difference Between Whole Wheat and White Bread?
White bread contains more starch than whole wheat bread. This is the reason why the body metabolizes white bread quickly as compared to whole wheat bread. In short, your body converts white bread into sugar at a faster rate and spikes your blood sugar level. This can be very harmful to people who suffer from diabetes or have the chance of getting diabetes. Not just white bread, but any food that spikes the blood sugar level can lead to inflammation and spike blood sugar levels.
Whole wheat bread, however, contains many vitamins that you need in your diet. Though many people prefer white bread as it's soft, however, switching to wheat bread provides sufficient vitamins such as folic acid, vitamin B6, magnesium, vitamin E, and zinc.  According to research by the University of Washington, high fiber in brown bread can also lower the risk of heart diseases by up to 20 percent.
How do you know you are Buying Whole Wheat Bread?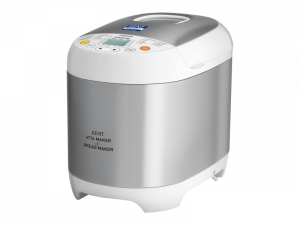 Considering the nutritional value, whole wheat bread is a better option than white bread. One of the ways to recognize whole wheat bread from white is the color. However, there may be instances when white bread may have added caramel coloring to give it a brown look. This is the reason why it is advisable to make whole wheat bread at home. With the help of KENT Atta and Bread Maker, you can easily bake fresh, soft, and aromatic brown bread right at home.