May 14, 2020
How to Make Eggless Banana Bread Using KENT Atta And Bread Maker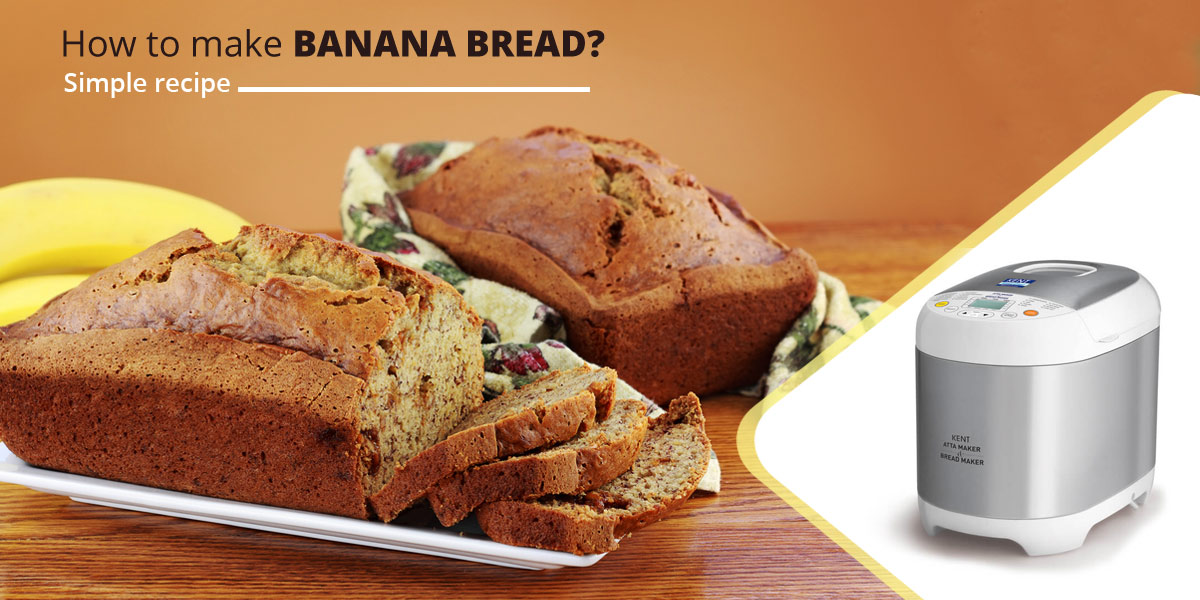 Culinary skills are often considered art. With the recent outbreak of a pandemic that has made majority of the population homebound, quite a lot of people have turned artists in the kitchen. People are honing their skills in perfecting this art to bring exotic and good food on their plates with finesse. And there can be nothing more satisfying than cooking your comfort food at home, right from scratch.
Out of the many recipes people have been sharing and trying, one that has gained huge popularity is Banana Bread. Eggless Banana Bread is all the rage this season but preparing it at home can be cumbersome. In fact, just the mixing of all the ingredients can be messier than you expect. The solution is readily available – KENT Atta and Bread Maker – a smart and easy way to prepare Banana Bread at home. Here's an easy recipe to help you prepare eggless banana bread in one of the most hygienic ways.
Ingredients required to prepare Eggless Banana Bread
1/3 cup butter
1/8 cup milk
2 medium ripe bananas (mashed)
1 and 1/3 cup all-purpose flour
2/3 cup sugar
1 and ¼ tsp baking powder
½ tsp baking soda
½ tsp salt
½ cup chopped nuts (optional)
½ cup chocolate chips (optional)
How to prepare: A step-by-step method
Pull out the bread pan, by turning it anti-clockwise.
Clean it and attach the kneading paddle.
Now, place the bread pan inside the atta & bread maker.
Put butter, milk and mashed bananas in the bread pan.
Now, in a bowl mix rest of the dry ingredients with the all-purpose flour.
Add, this mixture to the bread pan.
Now put the lid on and lock it.
After switching the appliance on, press the menu button.
Select the Quick Bread option at number 2.
Press the start button.
After the baking is done, take the bread pan out of the appliance. Let the bread sit in the bread pan for 10 more minutes. After it cools down, take out the baked bread from the bread pan and keep aside for some more time to cool off properly. Cut the loaf into thin slices and voila – show the world your culinary skills!
Pro tip: When the baking is complete, use a toothpick to prick the loaf and check if it is nicely cooked. If the toothpick comes out all clean, it indicates that the healthy banana bread is ready to be savoured.
Here is a video showing how simple it is to prepare fresh, hygienic, and delicious bread at home using KENT Atta and Bread Maker. Watch to know the complete recipe:
KENT Atta and Bread Maker is a one-stop solution that mixes, kneads, and bakes the dough without hassle. It does not involve any direct manual touch and hence proves to be hygienic and convenient, which makes it the right choice and the need of the hour.