November 9, 2021
How To Make Healthy Almond Milk Using KENT Super Strong Grinder & Blender?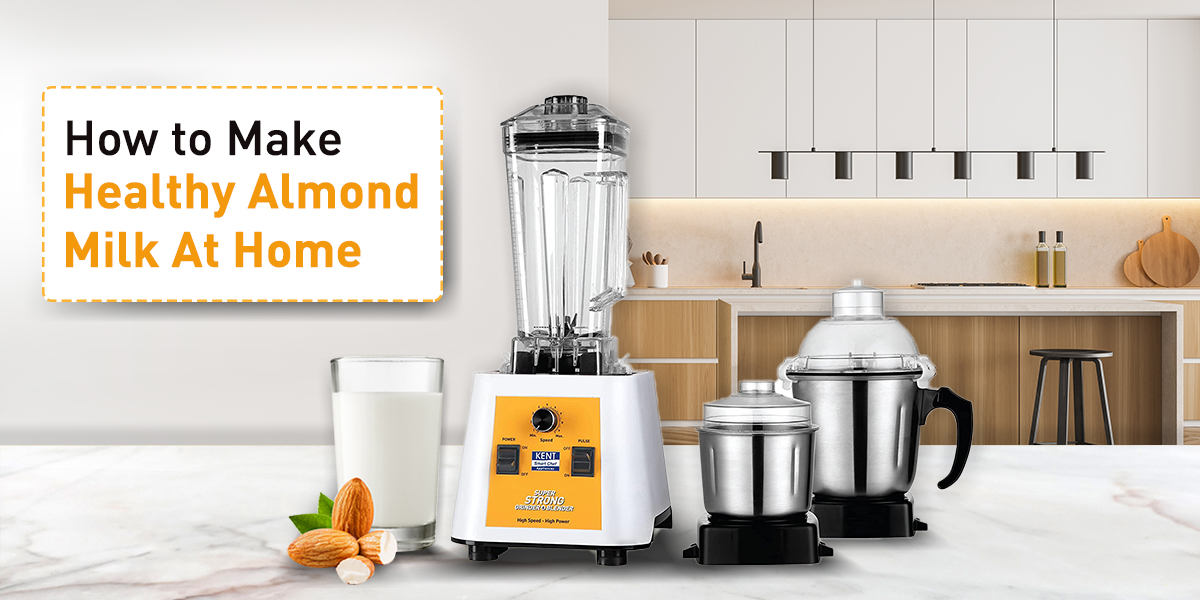 Almond Milk is non-dairy milk that is a staple in vegan kitchens. Apart from being cruelty-free milk that is prepared from ethically sourced almonds, it is extremely healthy. It is loaded with nutrients and can be combined in many recipes – from savoury to sweet. However, one major drawback of commercial Almond Milk is that it is expensive.
A good solution to this is to make it at home, fresh from nutritious almonds. A good Mixer Grinder Blender makes fresh almond milk at home easily, a secret that almond milk brands don't want you to know! KENT's Super Strong Grinder and Blender lets you make vegan milk, smoothies, and bring a café like experience home. The high-speed operation of the Super Strong Grinder and Blender lets you make almonds at a fraction of the cost in no time. A simple blending and straining procedure give you dairy-free milk that you can drink straight up, or add to your cereals, smoothies, sauces, desserts, and more. Almond Milk benefits include that it is dairy-free, naturally lactose-free, low calorie, and contains vitamins, minerals, and antioxidants.
Role of KENT Super Strong Grinder and Blender in Making Almond Milk At Home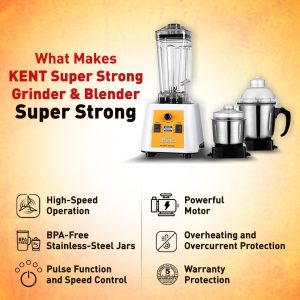 Making almond milk at home has several benefits – it's cheap, it's preservative-free, it's free of harmful additives, it's freshly made, and it can be made sugar-free.
A Good Blender can give you smooth, luscious milk whereas a less powerful blender can make the procedure tedious. A poor-quality blender can make your almond milk watery, but KENT Super Strong Grinder and Blender can help you prepare healthy Almond milk at home with ease. The smart appliance is loaded with features that make it an obvious choice. Some of these are mentioned below
High-Speed Operation – The 30,000 RPM electronic variable speed blends and grinds quickly.
Quality BPA-Free and Stainless-Steel Jars – The good quality built of the device along with spill-proof lockable lids and jars make it a must-have kitchen device for hassle-free blending.
Pulse Function and Speed Control – The pulse function controls, and speed control allow you to blend, mix, and grind the ingredients as per your preference so that the texture isn't affected.
Powerful Motor – The 1200W power 100% Copper Winded Motor allows the device to stay cool during use.
Overheating and Overcurrent Protection – KENT device is safe from Overheating and Overcurrent due to long hours of use and voltage fluctuations.
Warranty – The KENT Super Strong Grinder and Blender comes with a warranty of 2 years and 5 years on the product and motor respectively.
Almond Milk Recipe Using KENT Super Strong Grinder And Blender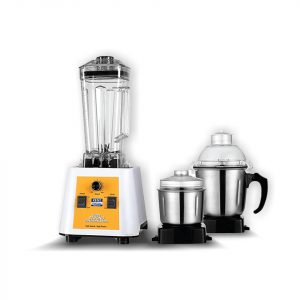 The Almond milk recipe is one of the easiest dairy-free recipes that you can make at home. All you need is a powerful Mixer Grinder Blender that can blend the almonds and milk into a creamy consistency. Almond Milk Recipe requires 1 cup Raw Almonds, 3 Cups Water,1 Tablespoon sweetener (Optional), and a pinch of sea salt. Now that you know about the ingredients, let's discuss how to make this delicious milk at home.
Take one cup of raw almonds and soak them overnight in water.
The next morning, rinse the almonds well and remove the skin of the almonds.
Add the almonds to a blender with 3 cups water.
Start the blender on a low setting and let it blend for a couple of minutes.
Increase the speed of the blender and blend some more.
Strain the blended liquid through or a cheesecloth.
Now, add the strained back into the blender with the agave and a pinch of salt and blend for a few seconds.
Your delicious vegan milk is ready! Add it to smoothies, cereals, desserts, shakes, puddings, coffee, and tea for a dairy-free creamy experience.
Take Away 
A good kitchen appliance ensures that you save money in the long run by easily making your food of choice at home. KENT Super Strong Grinder and Blender makes it possible to make vegan milks, smoothies, shakes, purees, chutneys, powders, and batters at home. A solid kitchen appliance ensures safety, reliability, and is easy to use. KENT's range of robust appliances that are built by keeping your safety in mind ensure that you can use them hassle-free.