April 26, 2017
How KENT Ozone Fruit & Vegetable Purifier is Helpful For Health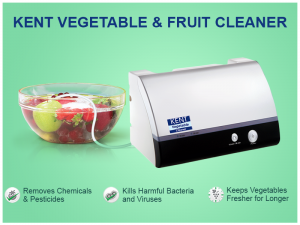 In olden days, farmers used to mainly rely on the usage of organic farming techniques and methods to cultivate crops (fruits and vegetables). They used to implement natural manures and compost for planting and crop rotation as this would ensure safe harvesting. But, now you would find that commercial farming is gaining popularity over organic farming. Today, the usage of chemicals, fertilizers and pesticides have replaced the natural methods of cultivation. However the increased usage of the pesticides lead to a number of health problems, which you may not know.
Impact of Consuming Fruits & Vegetables Cultivated using Pesticides
Relying on these chemicals has no-doubt helped in increasing the production of the crops, but it has also affected people's health. People consuming the foods that are cultivated using the chemical fertilizers can face different problems and even major health issues.
Some of the health risks or symptoms that you may experience are mentioned below:
• The consumption of fruit and vegetables cultivated using pesticides and insecticides can cause nausea, diarrhoea and abdominal cramp.
• Dizziness and anxiety can also be another effect of consuming such fruits and vegetables.
• Respiratory problems can also be another bad impact of consuming fruit and vegetables grown using the chemical fertilizers
• In the long run, you can experience the reduced rate in body coordination and healthy brain.
Several studies have found that due to the consumption of the foods that are cultivated using chemicals and fertilizers infants, growing children, nursing mothers and pregnant women are at high risk. In this concern, one can make sure that they either consume organic fruits and vegetables or ensure that the foods are properly washed before consumption. Everyone washes the fruits and vegetables before consuming, but does it completely removes all the impurities? No, but to ensure that you consume fruits and vegetables that are safe and free from contaminants, you can use ozone fruit and vegetable purifier.
What is Ozone Fruit and Vegetable Purifier?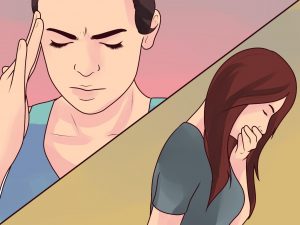 Ozone is the powerful as well as instant acting oxidizer that can easily oxidize all bacteria, pesticides, chemicals and viruses. O3 is used in order to purify the fruits and vegetables and make sure that you consume 100% safe fruits and vegetables. KENT has designed Ozone Fruit and Vegetable purifier that uses revolutionary Ozone disinfection technology to kill the germs. The technology can effectively kill all the contaminants like bacteria, fungus, viruses and many other pathogens from the outer surface of vegetables, fruits and meat. It removes the contaminants and allows you to consume fresh food.
Just washing vegetables, fruits as well as meat with plain water would not remove the pesticides and other harmful contaminants from the outer surface. But Kent Vegetable Purifier uses the powerful ozone technology that can easily removes all the impurities.
Design and Features of KENT Vegetable and Fruit Purifier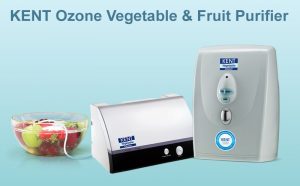 Sleek and modern design, KENT fruit and vegetable purifier is available as wall mounted and in counter top as well. The compact and portable fruit washer works in a convenient manner to keep the vegetables and fruit fresh for long. It comes with two set of timer options that include 15 and 30 minutes and thereby it can produce ozone output of 200 mg/hr. It has low noise operation and thus makes a sound of less than 45 decibels.
Some of the features of the appliance are mentioned below:
• Removes pesticides, harmful chemicals and germs
• Compact and portable design
• Revolutionary Ozone disinfection technology
• Deodorises seafood and meat
• Cleans antibiotics and hormones from meat, poultry and seafood
• Keeps the food fresh for long time
• Operates with input voltage of 230V AC 50/50 Hz
• Power consumption required 13 watts
The Bottom Line
So, if you want to ensure that you are consuming fresh foods that are free from harmful chemicals, pesticides & germs, then install KENT Ozone Vegetable and fruit purifier. The model is available in both wall mounted and table-top design, which you can purchase as per your taste and preferences.
Purchase your fruit and veg purifier now!