May 15, 2019
How KENT Ozone Fruit and Vegetable Purifier is Helpful For Health
When you buy fresh fruits and vegetables, the first thing that you do is wash the food items in clean water. However, have you ever thought that you may be serving your family contaminated food items even without knowing? Starting from organic produce to homegrown vegetables, everything is loaded with contaminants. Washing the vegetables in plain water doesn't remove pesticides from vegetables. Eating insecticide free food is not possible if you don't wash the vegetables in the right way. This is where KENT Vegetable and Fruit Cleaner can be of great help. Read on to find out how a vegetable and fruit cleaner can help you eat pesticide-free food and stay healthy.
Impact of Consuming Fruits & vegetables Cultivated using Pesticides
The chemicals used to keep foods insecticide-free to increase the production of the crops also affects your health. People consuming the foods that are cultivated using chemical fertilizers can face different problems and even major health issues.
Some of the health risks or symptoms of using contaminated food are:
Nausea, diarrhoea and abdominal cramp.
Dizziness and anxiety
Respiratory problems
Reduced body coordination
Infants, growing children, nursing mothers, and pregnant women are at a higher risk of falling sick on consuming foods cultivated using chemicals and fertilizers. Even organic foods need some level of cleaning to avoid any risk. Washing the vegetables and fruits with plain water doesn't remove the residue of chemicals and pesticides present on food items. This is the reason why you need to use KENT Vegetable and Fruit Cleaner, which uses Ozone Disinfection Technology to make food items safe for use.
What is Ozone Fruit and Vegetable Purifier?
Ozone is a powerful and instant acting oxidizer that easily oxidizes all bacteria, pesticides, chemicals, and viruses. O3 is used in order to purify the fruits and vegetables and make sure that your fruits and vegetables are safe for consumption. KENT has designed Ozone Fruit and Vegetable purifier that uses revolutionary Ozone disinfection technology to kill the germs. The technology can effectively kill all the contaminants like bacteria, fungus, viruses and many other pathogens from the outer surface of vegetables, fruits and meat. It helps in removing the contaminants and allows you to consume fresh food.
Just washing vegetables, fruits, as well as meat with plain water, doesn't remove the pesticides and other harmful contaminants from the outer surface. Kent Vegetable Purifier uses the powerful ozone technology. Cleaning Vegetables with Ozone Purifier helps in removing impurities.
What Makes KENT Vegetable and Fruit Cleaner a Must-Have?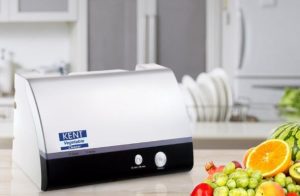 Sleek and modern design, KENT Fruit and Vegetable Cleaner is available in both wall mountable and counter-top design. The compact and portable fruit appliance works in a convenient manner to keep the vegetables and fruit fresh for long. The vegetable cleaner comes with two sets of timer options that include 15 and 30 minutes, which produce ozone output of 200 mg/hr. The best part is the appliance doesn't make too much noise making it very convenient to use.
How to Clean Vegetables Using KENT Vegetable and Fruit Cleaner?
KENT Vegetable and Fruit Cleaner is extremely easy to use and operate. All you need to do is put the vegetables or fruits in a bowl filled with sufficient water. Submerge the Ozone tube in the bowl of fruits and vegetables. Depending on your requirement, set the timer for 15 or 30 minutes. When the purification process is over, rinse the vegetables and fruits in clean water.
How Does Ozone Disinfection Technology Help?
The vegetable and fruit cleaner uses ozone disinfection technology that helps in removing chemicals and pesticides from the surface of fruits and vegetables. The Ozone technology used by the purifier is extremely powerful and effectively kills bacteria, viruses, and other pathogens by rupturing their protective coatings or cell walls. The appliance also helps in removing pesticides from vegetables besides the microorganisms. The Ozone technology also sterilizes the food items to make them clean and safe for use.
The Bottom Line
So, if you want to ensure that you are consuming fresh foods that are free from harmful chemicals, pesticides & germs, then install KENT Ozone Vegetable and fruit purifier. The model is available in both wall mounted and table-top design, which you can purchase as per your taste and preferences.
Purchase your fruit and veg purifier now!