February 2, 2022
Innovative Ways to Use an Electric Kettle
A handy appliance that many people swear by is an electric kettle. Surprisingly, an electric kettle is not just helpful for boiling water, it can be of great help in preparing a lot of other snacks and beverages within minutes. Whether you are an avid coffee lover or a hosteller in love with light night noodles, KENT Electric Kettles are your perfect companion.
9 Innovative Uses of an Electric Kettle
1. Brew a Perfect Cup of Tea
If you are a tea lover, you don't need to go to the kitchen every time you crave a cup of tea. Whether you prefer green tea or a perfectly boiled cup of Masala chai, you can prepare it in a jiffy with an electric kettle. Electric kettles boil water at nearly twice the speed of the stovetop, thereby saving time in busy mornings.
2. Hot Soup on a Rainy Evening
A piping hot bowl of soup is the perfect companion on a rainy evening. However, you don't need to spend hours in the kitchen preparing your favorite soup. All you need to do is chop the vegetables into small pieces and add them to the electric kettle with the right amount of water. Hot and delicious soup will be ready within minutes. You can also use instant soup powder in the kettle with the right amount of water.
3. Instant Noodles for Late Night Cravings
Instant noodles are the lifeline of hostellers. Thanks to the electric kettle from KENT, you don't need to order food from outside to satisfy your late-night craving. The best part is you don't need to wait for a long time to enjoy your bowl of noodles. The electric kettle boils water in minutes which you can add to your cup noodles and enjoy your favorite instant noodles.
4. Instant Oatmeal for Busy Mornings
Another snack that can satisfy your hunger pangs is instant oatmeal. Whether you need to prepare a quick breakfast or light dinner, instant oatmeal is the right option for you. With the help of an electric kettle, you can make oatmeal in minutes. All you need to do is boil water in an electric kettle and add the water to the bowl of oatmeal. Your delicious snack is ready.
5. Brew a Cup of Great Coffee
If you are a coffee addict, an electric kettle is a must-have appliance for you. Brewing a cup of coffee whenever you want is not as difficult as you think. All you need to do is boil water in the kettle and add coffee powder when the water is ready. Your perfect cup of coffee will be ready in minutes.
6. Melt Chocolate
Melted chocolate is a great addition to ice creams & desserts, but melting by heating is often tricky, as chocolate is very sensitive to heat and changes taste. To make smooth melted chocolate, you can simply boil some water in an electric kettle and add it to a bowl. Then place the bowl of chocolate over the bowl containing hot water and stir continuously till the chocolate becomes like a glossy paste. You can add some butter to it to make a delicious fudgy frosting, or add it to your coffee, shakes, and desserts.
7. Make Detox Drinks
An electric kettle can easily help you make your detox drinks. All you need to do is boil water in the electric kettle and take it out in a cup and add a few drops of lemon & ginger juice to it. Your perfect cup of detox drink will be prepared within a few minutes.
8. Hot Spa Treatment
You can use an electric kettle for more than just cooking; it can also be utilized for skincare and beauty treatments. You can use an electric kettle to boil water for your foot soak or face steam. For a spa treatment, it is usually advisable to use hot water, so instead of turning on geysers, simply adjust the temperature in an electric kettle and get prepared for the spa.
9. Bottle Warming
Another excellent use for an electric kettle is to warm your baby's water bottle. Because it has temperature control, you can adjust the temperature to your preference. When you're in a deep slumber in the middle of the night, you would not want to go to the kitchen and wait 1-2 minutes for the bottle to warm up – that's when an electric kettle comes to your rescue. You can heat the water for your baby in a matter of seconds without leaving the comfort of your bed.
Frequently Asked Questions About Electric Kettle
Q1. What is an electric kettle used for?
Running to the kitchen to boil only a glass of water or making a cup of tea feels like a hassle. However, with the help of an electric kettle, you can easily boil water or make a cup of tea with the help of an electric kettle. Not just making tea or coffee, an electric kettle can also be used for making some simple snacks such as noodles. The appliance has a heating element or the coil at the bottom of the container to ensure that quick boiling.
Q2. How Long Does an Electric Kettle Take to Boil?
When you boil water on a stove, the heat escapes, which is why it takes longer to boil water. However, an enclosed electric kettle stops heat from escaping and also allows pressure to rise faster, thereby boiling water in minutes. The reason is when the bottom of the appliance gets a continuous supply of heat it takes less time to boil water. A powerful electric kettle takes approximately 2-3 minutes to boil water.
Q3. Does an Electric Kettle Make Too Much Noise?
Most modern electric kettles make minimum noise. So, if you are a person who loves a cup of tea early in the morning, an electric kettle is the right appliance for you. You can make a hot cup of tea without going into the kitchen or disturbing anyone.
Q4. What is the ideal size of an electric kettle?
Electric kettles come in different sizes. When buying an electric kettle, you need to check the family size or the number of people who will use the appliance. For instance, a 1-liter kettle can serve 2 people. So, if you need it for more people, opt for a kettle that is 1.2-1.5 liters.
Last Few Words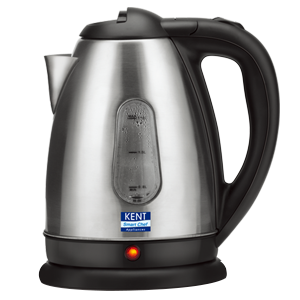 Those were some of the innovative ways you can use an electric kettle. Even if you travel a lot, you can easily take the electric kettle with you to prepare tea, coffee, or any other instant beverages or snacks that you like.