December 24, 2021
Easiest Way To Make Garlic Bread At Home With KENT Atta & Bread Maker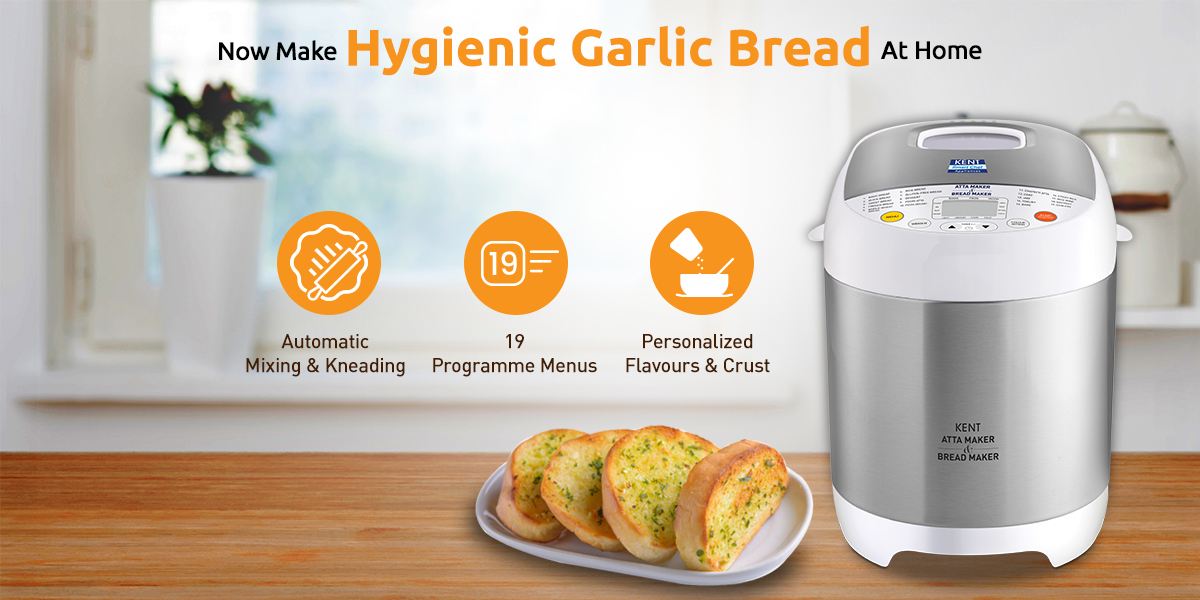 Garlic bread is a staple order when it comes to dining in restaurants. It goes well with soups, pasta, pizzas, and some even order it as a starter. However, frequently ordering garlic bread from the restaurant is not only expensive but also not feasible. Eating out at restaurants often is not possible and ordering garlic bread at home makes it cold and chewy by the time it is delivered. Hence, cooking fresh and delicious garlic bread at home is the best solution for your cravings. To fulfil your demand, KENT has come up with an innovative smart home appliance that is KENT Atta and Bread Maker. The appliance can help you not only make garlic bread, but also various types of bread at home hygienically, by just using the trusted ingredients from your kitchen. The safety and freshness of garlic bread are much superior when it is baked fresh in your kitchen.
What Makes KENT Atta and Bread Maker an Advanced appliance? 
KENT Atta and Bread Maker is an advanced kitchen appliance that lets you knead the dough and make fresh bread at home hygienically with no touching. The smart appliance automatically processes and lets you enjoy a pro-level finish every time. It comes with different advanced features and some of the features of KENT Atta and Bread Maker are mentioned below.
Automatic Mixing and Kneading – The time-based function and one-touch operation make it easy to operate. All you have to do is just add ingredients of choice, select the desired program, and let the appliance knead dough or make bread automatically.
19 Program Menus – The smart home appliance also comes with a 19 programmable menu that lets you make multiple types of bread and even more than bread. Besides bread, homemade jams and yogurt can also be made using this advanced appliance.
Personalized Flavors and Crust – This feature lets you decide the flavor and seasonings the bread should have. The crust of the bread, light, medium, or dark, can also be selected when you make bread with this appliance.
Additional Accessories with the Appliance – This kitchen appliance comes with additional accessories such as a measuring cup, measuring spoon, and a kneading panel remover.
All these features make using KENT Atta and Bread Maker extremely simple and easy.
Garlic Bread Recipe
To make garlic bread at home using KENT Atta and Bread maker, follow the following steps:
Add water, sugar, oil, flour, and yeast to the cooking jar and select the desired program according to the bread you're cooking.
Select the weight, colour, and timer settings and press start/stop to start the program.
Once the bread cooks, remove the bread from the cooking jar and wait for 20 minutes before slicing your bread.
In a bowl, mix melted butter, garlic bread seasoning (containing salt, pepper, oregano, and chilli flakes), and finely chopped garlic cloves to make garlic flavoured butter.
Now spread the garlic-infused butter on the bread. If you like cheesy garlic bread, add some grated mozzarella cheese to it.
You can cook the garlic bread in the oven for a few minutes to melt the cheese or heat it in a pan.
Enjoy your fresh, homemade, delicious, and hygienic garlic bread!
KENT Atta and Bread Maker let you experiment with various bread recipes without having to spend hours cooking in the kitchen. This appliance allows you to try out versatile dishes and makes cooking easier.
Take Away 
KENT Atta and Bread Maker is one of the advanced cooking appliances for modern kitchen that let you eat delicious bread that you can make from scratch in your kitchen. With this appliance, you can prepare delicious and healthy bread without spending hours in the kitchen. More importantly, the 19 program menus, one-touch operation, and safety and reliability of KENT make this kitchen appliance a must-have in your kitchen.