April 23, 2019
A Handy Buying Guide for Pop-Up Toaster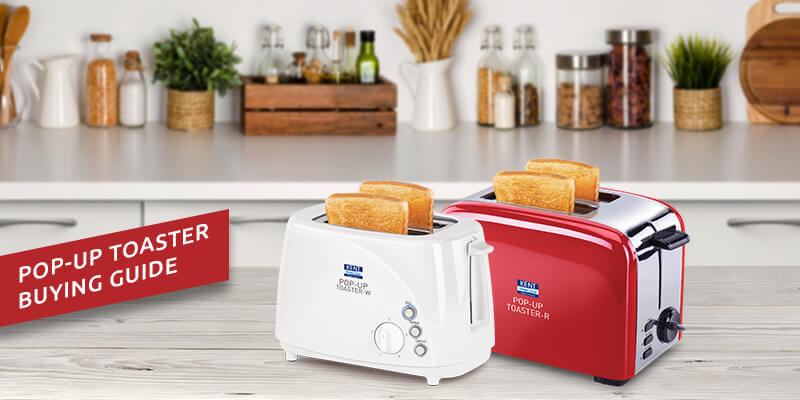 From preparing lunch, getting ready for office to dropping kids to school, there are a hundred things to do before you finally reach office. Deciding what to make for breakfast, which is healthy and filling, on a hectic morning is a tough task. This is where pop-up toasters can help you out. A plateful of crispy toast with honey or a dollop of butter gives a perfect start to your day. However, with a number of toasters available in the market, choosing the right appliance can be a difficult job. To help you out, here's a buying guide to help you buy the right appliance.
Types of Toasters
When it comes to toasters, you can choose from two and four-slice toaster and toaster ovens. The primary consideration when choosing a toaster is the design, size, and budget. Pop-up toasters are ideal for toasting slices of bread, or bagel. Toasters are also compact in size and easy on your pocket. Here are a few reasons why pop-up toasters score better than toaster ovens.
Ideal for Crispy Toasts
If a plateful of crispy toast is all you need, Pop-up toasters are your best option. The reason is pop-up toasters brown the toasts consistently and evenly as compared to toaster ovens. In addition, a pop-up toaster can toast bread slices in 1-4 minutes as compared to ovens, which take 3-9 minutes.
Saves Time
The time to toast a slice of bread depends on the volume. As a result, faster toaster ovens take twice the time as pop-up toasters. A two-slice toaster comes with all the essential features that can make your mornings less hectic.
Features to Consider
When buying a pop-up toaster, here are some of the important points to consider:
Browning Options
The latest toasters from some of the renowned brands come with different browning modes. Depending on your preference, you can choose the crispiness and color of the toasts. The best part is these toasters provide consistent browning, even if you are toasting multiple batches.
Size of the Slots
The next point is the size of the slots. When you opt for a two-slot toaster, make sure it has deep slots. This makes it easy to toast large slices of bread easily with perfection.
Defrost Option
Thawing cold bread on a busy morning takes up a lot of time. When choosing a toaster, make sure it has a defrost option, which makes it easy to thaw cold bread before toasting.
Cleaning Tray
Cleaning bread crumbs from the surface of the toaster is a difficult task. This is the reason why make sure the toaster comes with a removable tray to easily clean the bread crumbs.
Last Few Words
In addition to checking the points mentioned above, make sure you check the after sales service of the brand that you are choosing. Following the guide mentioned above will help you choose the right product, which is worth the price and meets your specific needs.