December 11, 2019
5 Recipes you can Make Using an OTG
Food is the heart of any occasion, especially in India. Whether it's a birthday, wedding, or festive season, no special occasion is complete without food. However, considering the rising health problems, a lot of people are switching to a healthier way of cooking. One of the appliances that not only make cooking easy but also makes dishes healthy is an OTG. The oven toaster griller is not just ideal for preparing pizzas and tikkas but also for a variety of cakes and biscuits. With Christmas just around the corner, you must be busy deciding the menu for your party. So, in this blog, we list some lip-smacking recipes that you can cook using an OTG in kitchen.
Mouth-Watering OTG Recipes
If you are a beginner and thinking about what dishes you can make in an OTG, you can try using OTG in your kitchen for cooking the following lip-smacking OTG oven recipes for your upcoming Christmas celebration.
1. Baked Samosa
An Indian snack that is loved by almost everyone, samosas are the star of every get-together. However, a lot of people avoid greasy and oily samosas for health reasons. Now, you can give a twist to your favorite snacks by baking them in an OTG. The best part is you don't need to worry about the calories when you make them in an OTG. All you need to do is make the cones and add the filling. Bake the samosa at the right temperature and serve them hot with a tangy chutney.
Did you know? A small size samosa has about 240 calories, loaded with saturated fats, carbs, and no essential calories.
2. Jaggery Christmas Cake
Who doesn't love a yummy cake made for the occasion of Christmas? You can bake this perfect cake in OTG with perfection. Though it may sound difficult, you only need five ingredients to bake this yummy cake in OTG. All you need is multigrain flour, butter, melted jaggery, and eggs. Preheat the oven for 10 minutes while whipping the ingredients in a bowl and bake it for 30 minutes approximately. Your cake is ready.
3. Paneer Tikka
A foolproof dish that is perfect for any occasion is paneer tikka. A crowd-pleaser, paneer tikka in an OTG brings out all the flavors. Dice paneer, along with some healthy vegetables such as sweet potato, zucchini, and tomatoes, and mix them with tandoori masala. Bake them at the right temperature and serve with green chutney.
4. Barbecue Chips
Potato chips are a must-have at every party. However, fried chips are loaded with calories and unhealthy. So, this Christmas give a healthy twist and opt for barbecue chips made in an OTG. One of the best snacks that you can enjoy without adding on any calories, you will need only 15 minutes to prepare this snack. Preheat the oven. Mix potato slices, oil, salt, pepper, garlic, oregano, and basil in a large bowl. Place the slices in a baking tray and bake for 15 minutes. Let them cool before serving.
5. Vegetable Kebab
 Kebabs are a great appetizer, especially for a Christmas party. The combination of healthy vegetables along with a tangy chutney makes this kebab a perfect party star. Mix healthy vegetables like carrots, beans, potatoes, cheese, and flour in a bowl. Apply oil to the baking tray and bake the kebabs for 20 minutes. Serve hot with green chutney.
Points to Remember when Using an OTG
1. Adjust the Temperature
The right temperature is important- both for pre-heating and while cooking- to make your food perfect. The oven needs to be pre-heated to its maximum temperature for most of the recipes. Avoid opening the oven frequently as it causes heat to escape and increases the cooking time.
2. Use the Right Accessory
An OTG comes with different attachments. Make sure you use the right attachment according to the dish that you plan to cook. Make sure the oven is clean and doesn't have any leftovers from the last use as it may ruin the dish that you are preparing.
3. Use the right Bakeware
Don't use dark-colored bakeware as these absorb more heat and increase the chances of burning your food. Instead, use light-colored metal, glass, or silicone bakeware as these transmit heat equally and prevent the risk of burning your food.
4. Avoid placing anything on the top
This is another important point that you need to remember. Avoid placing anything on top of the oven. In addition, make sure the vents of the OTG are clear to prevent accidents.
Uses and Difference Between OTG Oven and Microwave Oven
| | | |
| --- | --- | --- |
| Parameters of Comparison | Microwave Oven | OTG Oven |
| Cooking Time | It will Take Less Time  | It will Take More Time  |
| Food That is Thick | Cannot Cook in Microwave | Easily Cook OTG Oven |
| The Cost | Cheaper Than OTG Oven | Costly Form Microwave Oven |
| Uses | Uses Of Microwave is Easy to Uses | Uses Of OTG Oven is Little Bit Harder  |
| The Space | Microwave Have Less | OTG Oven having More |
| Control Of Temperature | No | Yes |
 Last Few Words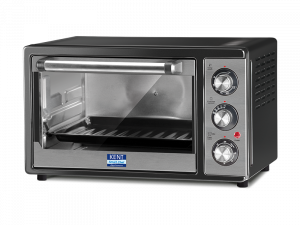 Organizing a party is a tough job, especially when you need to prepare something tasty and healthy. With the help of an OTG Oven, you can easily prepare a variety of baked and roasted dishes in a healthy way. The preset menu functions make it easy to operate the appliance. Visit our website to check out the collection of KENT Oven Toaster Griller.