February 13, 2017
The Most Polluted Rivers of India
Rivers in India have great mythological significance, it is believed that rivers have curative powers, they can wash away our sins bring us closer to god. But what is ironical is that in spite of our profound respect and reverence for our rivers, we have not been able to maintain their purity, cleanliness and their physical well-being. Be it Ganga, Yamuna, Brahmaputra, Kaveri or any other river flowing in the soil of our motherland, not a single river is free from pollution. River pollution has been causing serious water-borne diseases and health problems that are affecting the human population as well as animals, marine life, and birds in the environment.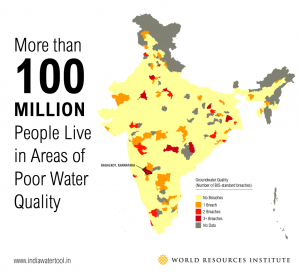 Major causes of water pollution
An alarming 80% of India's surface water is polluted, according to the latest assessment by WaterAid, an international organization working for water sanitation and hygiene.
The report, based on latest data from the ministry of urban development (2013), census 2011 and Central Pollution Control Board, estimates that 75-80% of water pollution by volume is from domestic sewerage, while untreated sewerage flowing into water bodies including rivers have almost doubled in recent years.
Between 1991 and 2008, the latest period for which data is available, the flow of untreated sewerage has doubled from around 12,000 million liters per day to 24,000 million liters per day in Class I and II towns.
The database defines Class I towns as those with a population of more than 1 lakh, whereas towns with the population ranging between 50,000 to 1 lakh are classified as Class II.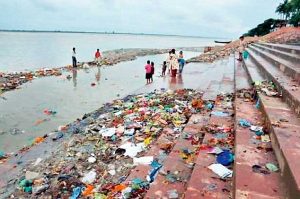 Some of the other major reasons for Water pollution are:
Industrial waste
Improper practices in agricultural sector
Reduction in water quantity in rivers in plains
Social and religious practices like dumping dead bodies in water, bathing, throwing waste in water
Oil leaks from ships
Inadequate industrial treatment of wastes.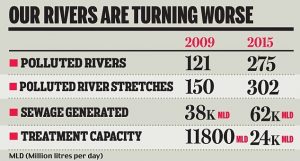 Report Card: Top five polluted rivers of India
The top most polluted rivers in India are
Yamuna: The river ranks among the top 10 dirtiest rivers of the world, along with the Ganga. With Delhi dumping the most (58%) waste in the Yamuna, and almost all efforts to cleaning it is failing, the river is fast turning into a vast sewage.
Ganga: The 'holy' Ganga in Varanasi. Thirty-two drains empty their contents into this river. Despite many efforts at cleaning it, the levels of pollution in Ganga today are much higher than WHO's permissible limits.
Sabarmati: The polluted Sabarmati river in Ahmedabad. Branded the third most polluted river in the country by CPCB in 2010, fecal coliform (F.Coli) bacteria was found to be highest in the river, turning lethal at many stretches.
Oshiwara: The Oshiwara river in Mumbai. According to a CPCB report, 1/3rd of this most polluted river stretches in India are in Gujarat and Maharashtra.
Damodar: The Damodar river that flows through West Bengal and Jharkhand, has seen many industries (mostly coal) sprout on its mineral rich banks. It is one of the most polluted rivers in India.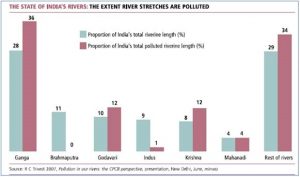 Increasing incidence of water pollution is giving rise to different vector-borne diseases like cholera, dysentery, jaundice and diarrhea etc. Water pollution is found to be a major cause for poor nutritional standards and development in children also.
Hence safe drinking water is essential in every household.  Kent UV RO technology can effectively kill bacteria and virus in the water. Also, the water purifier offers advanced multistage water purification processes which include the use of water filtration membranes like sediment filter and activated carbon filter.